Robert Nishimwe is accepted into Georgetown University
Robert Nishimwe looks forward to the future.
In the year of 2008, Robert Nishimwe came to the United States from Tanzania with his family, who is originally from Burundi. They resettled in Des Moines, Iowa.
What was your first experience of America?
« It was hard to adjust to the America life. Because there are certain things I did not know. I thought America was going to be this ideal place, sort of like Utopia. Everybody is nice and loving, everybody eats every day, but then you come to find out that its different » says Nishimwe.
According to Nishimwe, some people in America are not welcoming at all. Nishimwe experienced a lot of racism. « I learned things that I did not know. People perceived me in a way that I had never perceived myself before » says Nishimwe.
When he first came to America, Nishimwe was involved in reading programs that helped shape his communication skills. « I was involved in the after-school program where I would read for forty minutes every day after school. Reading a lot of books helped him to learn the English language at a faster pace. »
« Tell your story. Allow other people to know you. You are authentic and you have to communicate that to others. »
According to Nishimwe, telling your story means allowing people to know who you truly are. As a refugee/immigrant, some people do not truly know what you had to go through unless you share your story.
In his recent TV interview, Nishimwe's friend asked him to go read the comments people had left. Nishimwe says some people left negative and rude comments about him being a refugee/immigrant in America.
In the comments, Nishimwe says, « People said stuff like, 'You need to go back to Africa' without proper knowledge of how you got here in the first place. I remember all these different comments under my TV interview video, people telling me to go back to Tanzania because I am taking advantage of the American system » says Nishimwe. It can be difficult to feel integrated when people are not welcoming you. According to Nishimwe, the key is to continue to educate and persevere.
Get involved as much as you can
Today, Nishimwe is involved in a number of extracurricular activities. The list makes one page and a half. Some of the awards he has received include:
AP Scholar
The Billy Michal Student Leadership Award
The Porter Dimery Sr. Youth Human Rights Award
Honor Roll
Speaker in the Des Moines Register's Storytellers Event
Iowa Rotary Optimist Youth Award
YMCA of Greater Des Moines Make-A- Difference Youth Award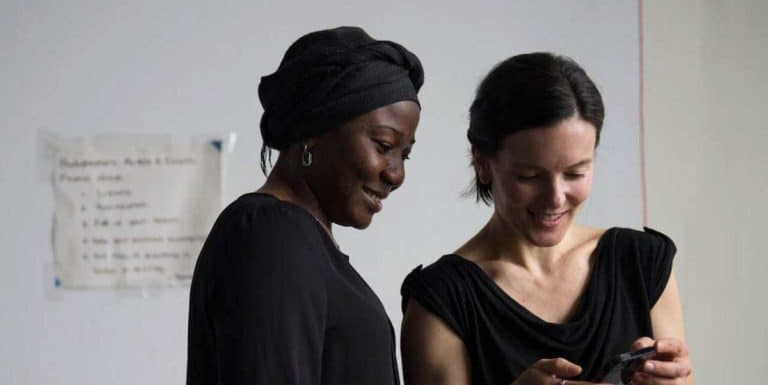 Welcome newcomers to your community
Get informed, volunteer, and find other ways to welcome our newest neighbors in the USA.
Comment nous aider
How do you manage to keep your school grades at a higher GPA while volunteering in your community?
When asked how he manages his time, Nishimwe explains, saying; « I think it's about balancing your time. It's about knowing when to take time for yourself and sort of do a timeout. » He explains that you have to focus on your goals and know how to divide each time for each activity. Nishimwe says you have to discipline yourself to do what matters most to you.
« Do not be afraid to ask for help. Asking for help is not a sign of weakness but a sign of strengths. »
« Every single time I got in class. I just befriended all the smart kids in class. So I can know who to go to for help » says Nishimwe. He is not afraid to talk to teachers and ask for help when he needs it. He adds, « I am not afraid to ask questions in class. In other words, I am not afraid to sound stupid. »
According to Nishimwe, if you do not understand something, you have to find people who you can rely on. Know your friends and who is there to help. Nishimwe says there are some friends he has that are focused on academic stuff. He explains, saying; « One friend cannot be everything to you. » According to Nishimwe, you have to diversify your friends because you cannot do everything alone.
In his free time, you might catch Nishimwe using social media such as Facebook and Instagram to connect with friends while staying up to date with the trends. « I like social media because I get the news and the funny things, » says Nishimwe. « Taking personal time off is as important. It's about finding what calms you and what allows you to rejuvenate. »
Robert Nishimwe chooses to attend Georgetown University.
Nishimwe applied to some Ivy schools in the nation. He has been accepted at Georgetown University located in Washington D.C., the capital of the United States. On April 19, Nishimwe flew out to D.C. to visit the school. The visit will take four days and this opportunity includes a tour of both the school and Washington D.C.
If Nishimwe was to choose to study in the state of Iowa, Nishimwe would go to any of the state universities in Iowa for free. However, Nishimwe feels like Georgetown is the right fit for him. « I got my financial Aid from Georgetown, and it was a good package, so I will be committing to Georgetown, » says Nishimwe. Now 18 years old, Robert Nishimwe looks forward to the future.