Learn about the COVID-19 vaccine and booster. Find out how to get vaccinated and tested. Know what to do if you get COVID-19. Get information for immigrants, including vaccine requirements for immigration.
Updated May 10, 2023
---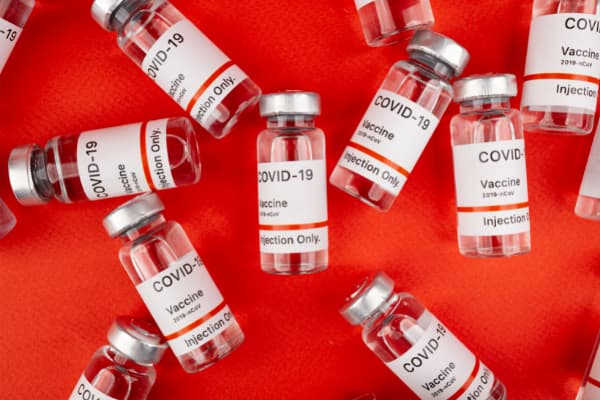 COVID-19 is no longer a global emergency, but you can still get sick with the coronavirus. Restrictions, like using masks and social distancing are no longer in place. Getting the COVID-19 vaccine is still recommended.
The COVID-19 vaccine is available to everyone in the USA who is 6 months of age and older. The vaccine can decrease your risk of infection and severe illness.
It is important to stay up to date with your COVID-19 vaccines, including boosters. For the most current information, go to the CDC website.
In the following months, the government will stop managing the COVID-19 vaccines. Doctors that still have government vaccines should provide them to you for free.
After the federal vaccine supply ends, you can still get vaccinated.
Many doctors and pharmacies will still offer the COVID-19 vaccine.
Children will still get the vaccine for free in most states.
Insurance, Medicare, or Medicaid will cover the cost of your vaccine.
Your vaccine will still be free at some pharmacies and community centers if you don't have insurance.
After you receive your first vaccine, it is important also to get the follow-up boosters. There are two boosters currently available:
Pfizer BioNTech updated bivalent booster
Moderna updated bivalent booster
The updated booster will protect you from the original virus and from the Omicron variant. The original monovalent booster did not protect against Omnicron.
NOTE: If you received other types of COVID-19 vaccine outside the United States, there are other recommendations to follow.
The vaccine and boosters are available to children based on age.
Children 6 years and older should get the updated Pfizer-BioNTech or Moderna vaccine to be up to date.
Children aged 6 months–5 years may need multiple doses of the COVID-19 vaccine to be up to date, including at least 1 dose of the updated Pfizer-BioNTech or Moderna COVID-19 vaccine.
Learn more about the vaccine and booster schedule for kids.
There are two types of COVID-19 tests:
Rapid test, also known as antigen, home, or self-test.
Lab test, also known as PCR, is usually done by a nurse or doctor.
Due to the end of the emergency, many private insurances will stop reimbursing you for COVID-19 tests. Seniors on Medicare won't get free rapid test kits either. Patients with Medicaid could still receive free tests until September 2024.
Many organizations and community testing sites offer low-cost or free testing. Find a location near you.
If you get sick with COVID-19, it is important to stay home and keep yourself separated from other people for 5 days. You should wear a well-fitted mask if you have to be around others. As with any illness, your body needs rest and hydration.
Call your doctor if your symptoms are changing or if you have trouble breathing.
The CDC offers helpful instructions for those that test positive.
Undocumented immigrants and all immigrants, asylum seekers, and refugees can also get the COVID-19 vaccine and booster shot.
You can trust the government health information
The Centers for Disease Control and Prevention (CDC) is the government agency that helps protect the health of everyone living in the USA. You can trust their information. You can also trust your local health authorities and medical services. Every state, county, and city government has a public health agency.
I am undocumented and need healthcare
You have healthcare rights in the USA, whatever your legal status. You may also have rights to health insurance.
Here are more resources:
Find a free clinic (health services for people who cannot pay).
Find a health center (health services that only charge what you can afford). Many health centers offer free COVID-19 testing to everyone.
California has health coverage called Medi-Cal. It is for low-income, undocumented immigrants who are younger than 25.
Do I need to worry about public charge?
No, you can get the COVID-19 vaccine and booster shot. It will not be a public charge. Learn more at Protecting Immigrant Families.
If you need a medical examination for an immigration application, you also need to be vaccinated for COVID-19.
You will need to complete all the doses of the vaccine. Learn more about the CDC COVID vaccine requirement for immigration purposes.
Remember, if you refuse to receive the required vaccines, your immigration application may be denied.
If you are applying for an immigrant visa outside of the USA, you must receive the COVID-19 vaccine in addition to other required vaccinations.
Learn more about the USA vaccination requirements and your options if you refuse to get vaccinated.
The CDC guarantees that COVID-19 vaccines are safe and effective.
Side effects
After getting the vaccine, it is possible to have mild to moderate side effects. These occur because your body is working on building protection against the virus.
Keep in mind that everyone reacts differently to a vaccine. You may have different side effects from your family or friends.
The most common symptoms include:
Swelling, redness, and pain at the injection site
Fever
Headache
Tiredness
Muscle pain
Chills
Nausea
Facts and myths
Here are some of the common myths and facts about getting the coronavirus vaccine from the CDC:
Myth: I'll have problems having a baby.
Fact: There is no evidence that vaccines cause problems in the pregnancy or the placenta.
Myth: Getting the shot will alter my DNA.
Fact: The COVID vaccines do not change your DNA. The vaccines work with your body's natural defenses so you can develop immunity.
Myth: After getting the shot, I will test positive for COVID.
Fact: There is no authorized vaccine that causes a positive result on the viral tests (the tests used to know if you have the infection).
Myth: After getting the shot, I will get COVID.
Fact: There's no authorized vaccine that contains the live virus. The vaccine cannot make you sick with COVID.
This information comes from trusted sources, such as the Centers for Disease Control and Prevention (CDC) and the Food and Drug Administration (FDA). USAHello does not give legal advice or medical advice, nor are any of our materials intended to be taken as legal or medical advice. If you need medical help, call your doctor or the health authorities.