The GED® can help you achieve your career goals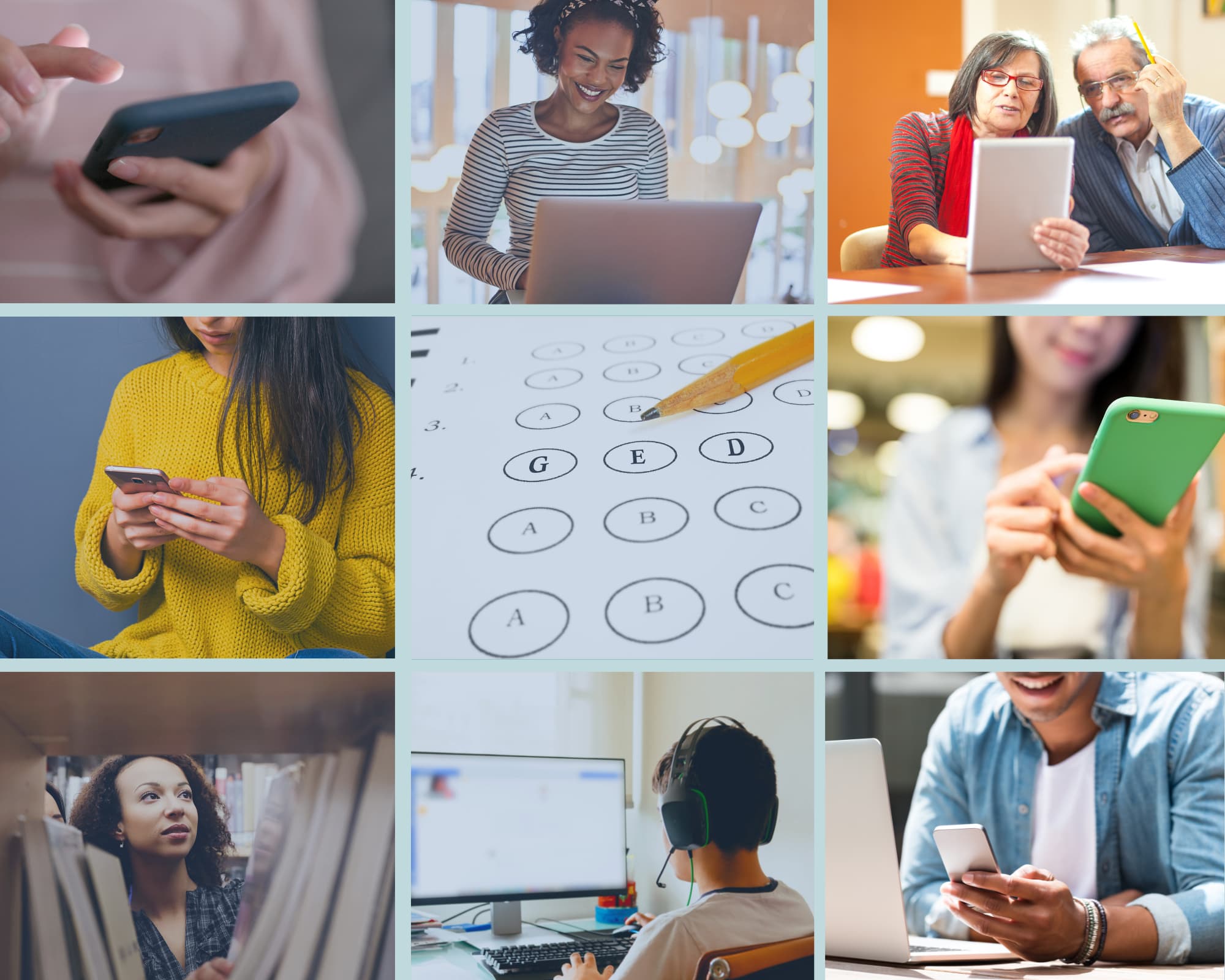 Why is a GED® important?
In the United States, receiving your high school diploma means that you have met the basic qualifications after 12 years of formal instruction, from 1st to 12th grade.
Passing the GED® or HiSET® test will provide you with a certificate that recognizes you have the same level of education and knowledge as a high school diploma.
A GED® or HiSET® certificate will help you in your professional and personal growth. It can help you to:
Get a promotion at your current job.
Get a new and better-paying job.
Apply for college or university.
Start a career in the military.
Apply for a Trade School.
Be a role model for your children.
Build your self-esteem! Be proud of the accomplishment you have achieved!
One of our students shared theirs success:
"It was the best thing that happened to me. It gave me confidence and mastery to take my GED® and pass them on the first attempt after just two months of interacting with USAHello study materials. Kudos!" -Former student
Why should I take the GED® or HiSET®?
If you did not receive a high diploma because you did not grow up in the USA or you could not complete high school, a GED® is the perfect option!
A big motivation for many of our GED® students is obtaining better opportunities for themselves and their families. Gema, a single mother of three who lost her eyesight five years ago, shared with us: ?
"I was able to obtain my GED, and now I'm looking for a job. I would never think this was possible; now, I have the dream to go to college to offer my children a better lifestyle." -Gema, former student
For others, like Claudia, studying for the GED® is just the beginning:
"I want a short career that will help me provide for my family. I hope that with the GED®, the job opportunities will change for me. I want to be a phlebotomist; I hope to make this dream come true." -Claudia, current student
Which test should I take, the GED® or HiSET®?
You will need to take the test that your state has approved. Most states in the USA offer the GED®.
For states that do not offer the GED®, you can take the HiSET®. 
Visit this table to find out which test your state offers.
USAHello's GED® preparation course prepares you to be able to take either one of these tests.
How do I prepare for the test?
To help you prepare for the GED® and HiSET®, USAHello has created a GED® preparation course.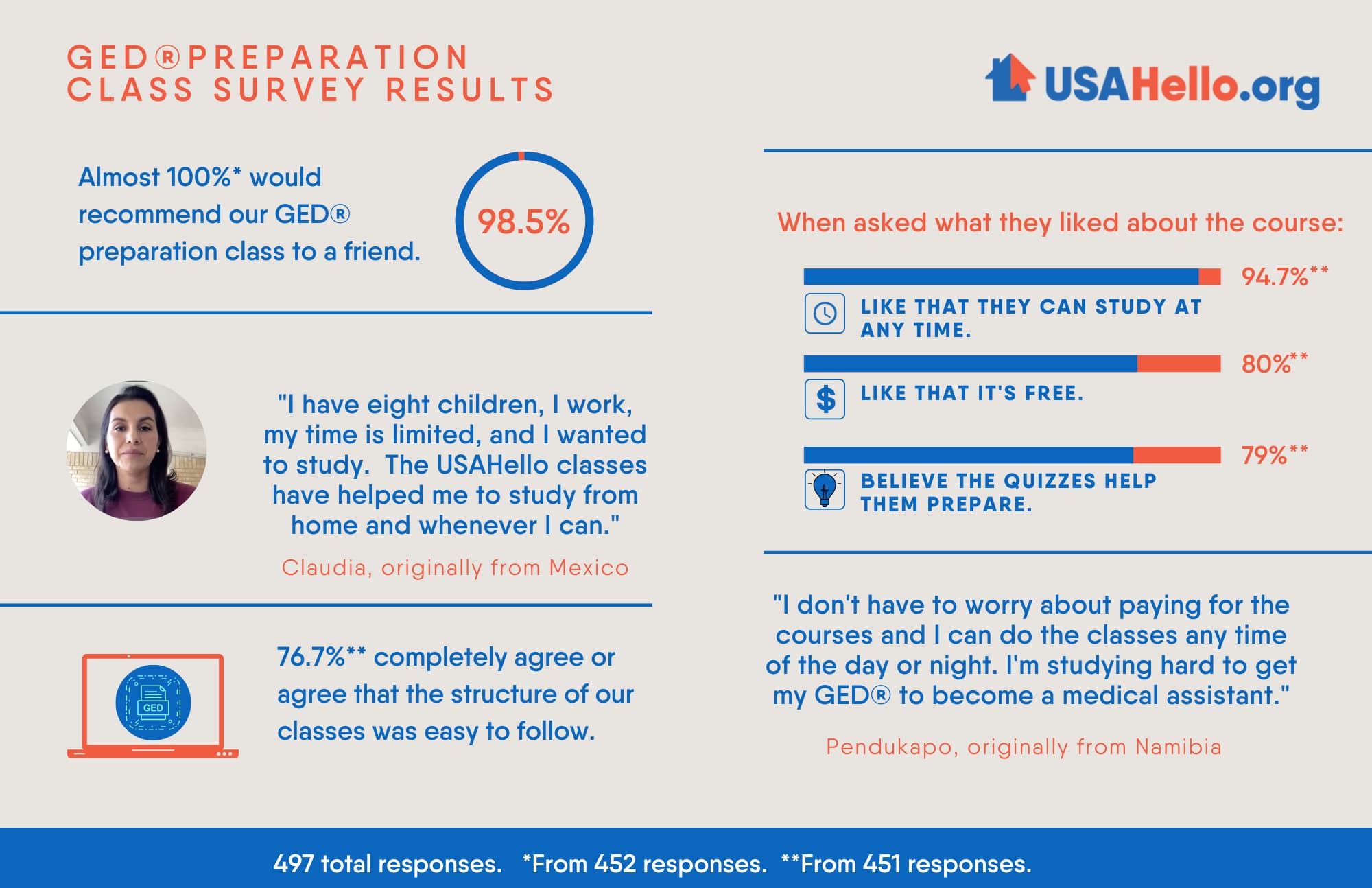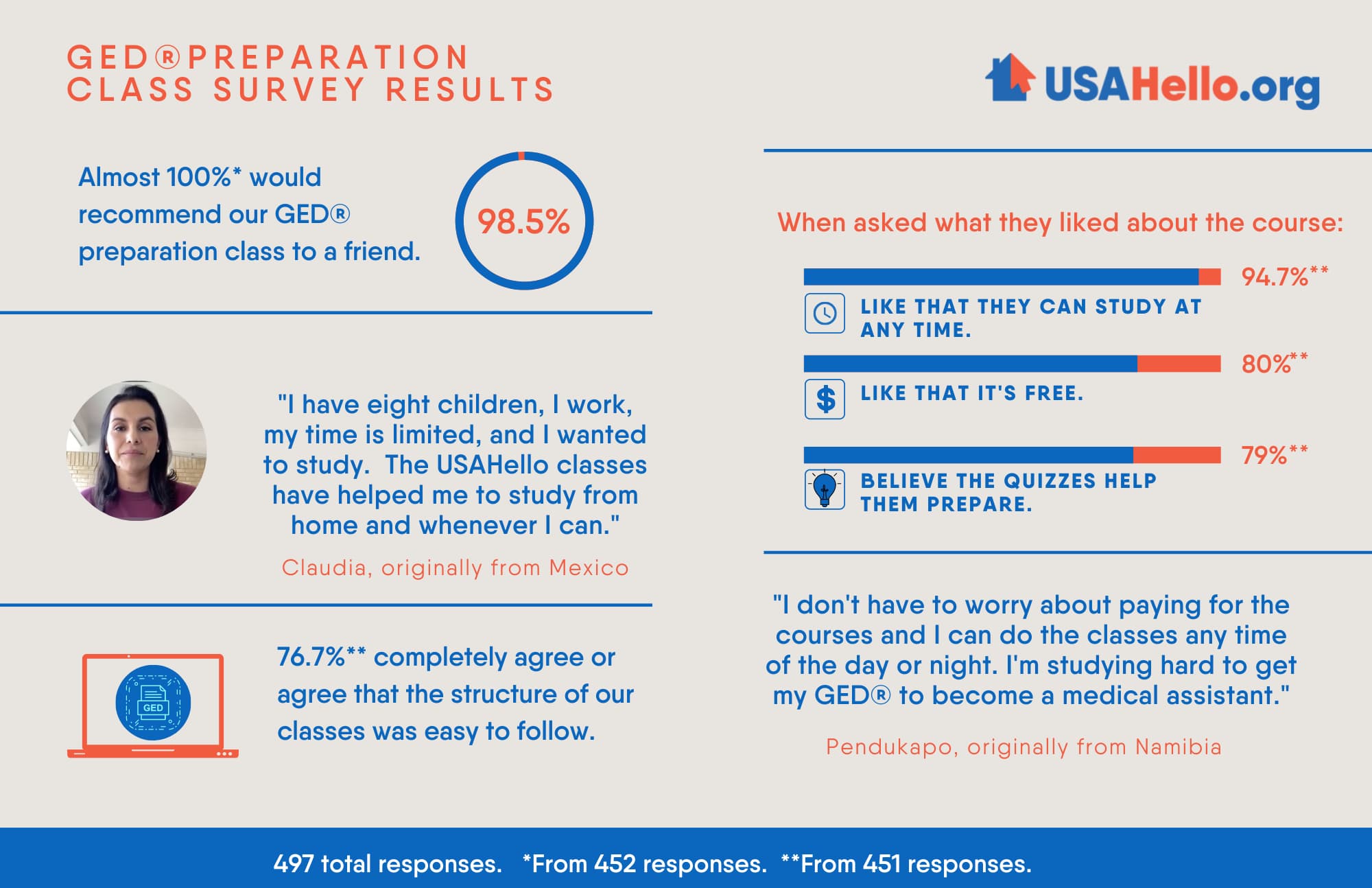 Our GED® prep course is divided into the four sections of the GED®:
Social Studies – teaches the history, economics, and geography of the United States and the world. It also covers US politics and civics. This course has 17 lessons.
Mathematics – teaches basic math skills as well as some specific math knowledge needed. This course has 20 lessons.
Language Arts – cover reading, grammar, and writing. This course has 13 lessons.
Science – introduces students to physics, biology, chemistry, and earth and space sciences. This course has 18 lessons.
After each lesson, you will have a quiz and a test at the end of the course. The quizzes and tests will help you prepare for taking the GED® or HiSET®.
After you complete our GED® preparation course, you will need to register at the GED® Testing Center to schedule your test. Make sure to follow all the instructions.
The similarities between our preparation course and the GED® test has made a major difference for many of our students:
"The course is very similar to the actual GED® so using USAHello's GED® course to study helped me a lot and made it easier to pass." -Alizeonna, former student
While for others, the most valuable help was to find an updated and free preparation class:
"USAhello provided me with the most up-to-date GED® material compared to any other free GED® study website." -Brandon, current student
Do I have to take the GED® test in English?
You can take the GED® test in English, Spanish, or French. If you take it in Spanish or French, your certificate will say that the test was taken in that language.
Visit the GED® Testing Center, which administers the GED test, to schedule your test.
Who can help me?
Our GED preparation course is designed to help students who cannot get to a classroom and need to study around work and family time.
If you need additional assistance, you can always contact us, and we will do our best to help you.
If you want face-to-face instruction, please use our FindHello App to find a local organization or school in your area.