USAHello website sees surge of traffic with interest in Process for Cubans, Haitians, Nicaraguans, and Venezuelans.
USAHello's guide has already been viewed over 40k times by people seeking further information.
USAHello's guide to the Process for Cubans, Haitians, Nicaraguans, and Venezuelans is getting flooded with people seeking information. Since the January 5th announcement, the guide has been viewed over 40,000 times. 
The new program is part of the administration's efforts to curb arrivals at the Southern border by creating population-specific temporary pathways. Immigrant advocates are grateful for acknowledgment of the extreme danger and hardship people from these countries are currently facing. Yet these programs are limited in scope and come against the backdrop of renewed efforts to sidestep established international asylum law. Those seeking safety face difficulties in learning to navigate an increasingly complicated U.S. immigration system.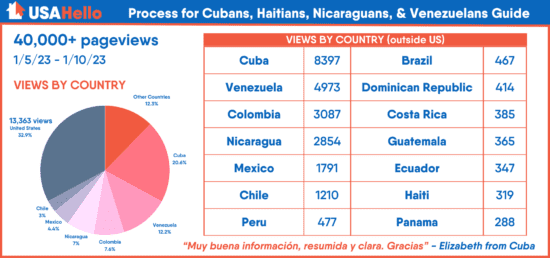 USAHello's multilingual policy explainers cut through complex information to ensure that those most impacted have access to the information they need to make what are very often, extremely high stakes decisions for themselves and their families. The guide is available in English, Spanish, French and Haitian Creole.

USAHello is a non-profit organization providing services to over 2.5 million immigrants, refugees, and asylum seekers annually, including:  
###