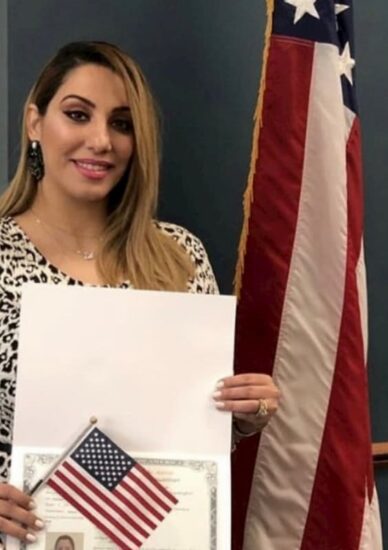 Free online translations and materials increase access to naturalization resources for immigrants during pandemic.
Responding to changes in the U.S. citizenship test made earlier this month, USAHello announces that it has completed the first available translations of the new test. The translated tests serve as a critical study aid for immigrants applying for U.S. naturalization. Individuals applying for naturalization on or after Dec. 1, 2020, will be required to take the new U.S. Citizenship and Immigration Services 2020 civics test, also referred to as the citizenship test. 
USAHello is a nonprofit dedicated to providing immigrants, refugees and asylum seekers with free, reliable online information and educational resources. USAHello partnered with Translators Without Borders to translate the citizenship test in Spanish, Arabic, French, Chinese, Hindi, Korean, Tagalog, Swahili and Vietnamese. All translations are available for no cost at USAHello.org and include the English and foreign language questions and answers side by side, allowing applicants to study in both languages. 
"The citizenship test is one of the final steps in the naturalization process and a most important one," said Sarah Ivory, president of USAHello. "While the test is administered verbally in English, providing translations of the test in applicants' native languages helps them gain proficiency in the subject matter and confidence in their ability to pass the test." 
The new citizenship test includes 128 questions, adding 28 questions to the previous version as well as modifications to about 20 questions and acceptable responses. USCIS is also requiring that applicants answer additional test questions during the naturalization interview. Under the new requirements, applicants will be asked 20 questions from the 128 available test questions, and the applicant will need to verbally answer in English at least 12 correctly to pass and advance in their naturalization process. Previous guidelines required 10 questions with six correct responses to pass. 
"We are concerned that the current 91 percent pass rate of the U.S. citizenship test may lower with the increasing length and difficulty of the new citizenship test," said Douglas Interiano, CEO and founder of Proyecto Inmigrante ICS, a nonprofit legal service provider in North Texas. "Free and accessible study aids, like USAHello's translated tests and online classes, are vital in providing immigrants resources to succeed in achieving their citizenship. These online tools are especially critical right now as access to in-person resources is restricted across the country due to the pandemic."  
For individuals who applied for citizenship before Dec. 1, 2020, USCIS officers will ask questions from the previous 100-question citizenship test and under the previous guidelines for passing. It is anticipated that the first applicants will start to take the new citizenship test in early spring 2021. 
USAHello is also working to update its free online citizenship class to cover the new material in the citizenship test and will announce the new class in early 2021.