Processes for Cubans, Haitians, Nicaraguans, and Venezuelans
Processes for Cubans, Haitians, Nicaraguans, and Venezuelans is a parole program that allows people from certain countries to live and work in the USA temporarily. Learn about the requirements and how to apply. Be aware of travel restrictions that may apply.

Обновленный 18 мая, 2023
---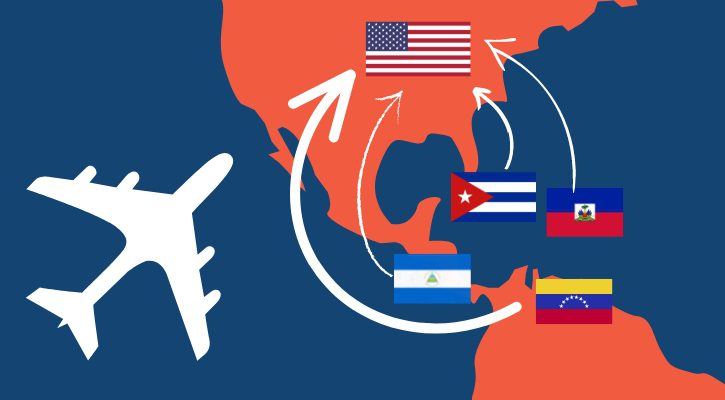 What are the processes
Under the Processes for Cubans, Haitians, Nicaraguans, and Venezuelans, up to 30,000 qualifying nationals from these 4 countries can travel to the U.S. each month. 
If you are approved through this process, you will fly to the United States, where you will be eligible to apply for U.S. work authorization. This is a temporary status for up to two years.
This program is not available to Cubans, Haitians, Nicaraguans, and Venezuelans entering the U.S., Mexico, or Panama illegally after January 5th, 2023. It was started to try to stop people from attempting to enter at the U.S. border. Cubans and Haitians who try to enter the U.S. by water are also not eligible.
The application to start the process is free. The applicant and the supporter do not have to pay to apply.
Who can be a beneficiary
A beneficiary is someone who may be considered for parole under this process. To qualify to be a beneficiary of this program, you will need to:
Be a Venezuelan, Cuban, Haitian, or Nicaraguan national.
Be outside of the United States.
Have a supporter in the United States.
Have a valid passport.
Pass a security screening.
Be able to arrange and pay for your own flight to the U.S.
Get vaccinations and other medical requirements.
You will not qualify if you:
Received a deportation order from the U.S. in the previous 5 years.
Entered the U.S. without authorization after January 5, 2023.
Crossed Mexico or Panama borders without authorization after January 5, 2023.
Tried entering the U.S. by sea (this is specific for Cubans and Haitians).
Have permanent residency or dual nationality in any other country.
Have refugee status in any country.
Your passport must be valid and not expired. For Venezuelans, if your passport had a certified extension, you can use that date. Certain expired Venezuelan passports remain valid due to the National Assembly decree of May 21, 2019. Find more information under "What to Expect after Filing Form I-134.»
Can family members join me?
Yes, if they are a spouse or unmarried children under 21. They do not have to be Venezuelan, Cuban, Haitian, or Nicaraguan nationals. They could also hold refugee status in another country. Children under 18 must travel with their parents to benefit from this process. They can not fly alone.
Who can be a supporter?
A supporter or sponsor is someone who is willing to apply for you to be in this program. They must prove they can provide you with financial and other help for two years. They must have legal status and live in the United States.
A supporter can be a:
U.S. citizen
Lawful permanent resident (green card holder)
Nonimmigrant in lawful status
Asylee, refugee, or parolee
Temporary Protected Status (TPS) holder
Deferred Enforced Departure (DED) recipient
DACA recipient
A supporter must:
Prove to have financial resources to support you for your entire time in the U.S.
Pass security and background checks.
Examples of types of help a supporter should be available to offer:
Provide you with transportation from the airport.
Provide safe housing for the duration of your parole.
Help you complete and submit needed documents.
Make sure your health care and medical needs are met.
Help with finding a job, school enrollment, learning English, and other needs.
A supporter can also apply with others or on behalf of an organization or business that will also provide support. If they are applying on behalf of a business or other entity, they should include a letter of commitment.
How can I find a sponsor?
Welcome Connect can help you find a sponsor. It provides a secure, accessible way for potential sponsors and beneficiaries seeking refuge to connect, start a conversation, and mutually agree on sponsorship.
On the 3rd Tuesday of each month, the platform will register people looking for sponsorship. Registration will open at:
9 a.m. (Central Standard Time) if you are in Nicaragua
11 a.m. (Eastern Standard Time) if you are in Haiti or Cuba
11 a.m. (Atlantic Standard Time) if you are in Venezuela
6 p.m. (Eastern European Time) if you are in Ukraine
The registration will close after reaching its limit and open again on the 3rd Tuesday of next month.
The Sponsor Circle Program from Community Sponsorship Hub can also provide resources and guidance to supporters.
How to apply
The beneficiary can not start the application process. Your supporter is the one who must first apply. The supporter must file Form I-134A. The supporter or sponsor must file a separate form for each beneficiary, including children.
Due to the large number of applications, USCIS will randomly select half of the applications to review each month. The others will be reviewed in the order received.
Process if your supporter is approved
USCIS could determine that Form I-134A is sufficient or request more information to approve your supporter. After your supporter is approved, you will receive an email with step-by-step instructions to:
Submit biographic (personal) information:
Confirm that you meet vaccination and health requirements.
Submit your information to CBP One:
Use the U.S. Customs and Border Protection, CBP One mobile application.
Send a photo.
If CBP confirms your application, you will receive a notice in myUSCIS.
Get Advance Travel Authorization to the United States:
If approved, you will have the authorization to travel to the U.S. for the next 90 days.
You or your supporter must buy your plane ticket and arrange travel.
Authorization to travel does not guarantee you will get parole. You will still need to pass inspection.
Ask for Parole when you arrive in the U.S.:
You will need to pass CBP inspections, including fingerprinting and additional screening.
If the officer believes you are a threat to the U.S. or you do not qualify for other reasons, you can be denied entry.
If you do not pass, you may be referred to U.S. Immigration and Customs Enforcement (ICE).
Obtain Parole:
If you make it through all these steps and pass inspection, you will be granted parole for up to 2 years.
What is next once I get parole
If you are paroled in the United States, you will need to do the following after arriving:
Report your physical address after 30 days.
Get a medical screening within 90 days.
Apply for a work permit using Form I-765.
Apply for a social security card.
If you change locations in the USA, You must report all changes of address within 10 days of moving.
If you choose to leave the U.S. and wish to return, you must apply for a travel document using Form I-131.
You may want to seek legal help to explore your options when your parole is over. You could be eligible to apply for asylum to stay in the U.S., but you must file within one year of arrival.
You will be expected to depart the country on your own when your parole expires. You could be detained and placed in removal proceedings if you do not leave.
The Department of Homeland Security (DHS) may decide to terminate your parole under certain circumstances, such as if you violate any U.S. laws.
Instructions for Venezuelans
If you submitted Form I-134 online before Jan. 6, 2023, under the Process for Venezuelans, your case will continue, and you don't need to take other actions. You will still need to follow the previous date requirements. You should not submit Form I-134A.
Warning: traveling through Mexico and Panama
DHS has said that Venezuelans, Cubans, Haitians, and Nicaraguans should not travel through Panama and Mexico to try to cross the border and enter the United States. If you irregularly cross the Mexican or Panamanian border after January 5th, you will not be eligible for the process.
There will be new migration checkpoints at the Mexico border. More resources will be dedicated to stopping human smuggling. Title 42 ended, and if you try to cross the U.S.-Mexico border unlawfully, you will be subject to expedited removal.
If you entered the United States before October 19th, 2022, and were released pending an asylum claim, you should continue to move forward with your asylum application.
Избегайте иммиграционного мошенничества
Узнайте, как защитить себя от нотариусов и поддельных веб-сайтов. Узнайте, что делать, если вы стали жертвой мошенничества.
Узнать больше
---
Информация на этой странице заимствована из DHS, USCIS, и других надежных источников. Наша цель — предоставить легко усваиваемую информацию, которая регулярно обновляется. Такая информация не равноценна юридической консультации.