What is the naturalization interview?
The naturalization interview is one of the steps you have to take to become a U.S. citizen. It is also known as the naturalization test or citizenship test. A USCIS officer will ask you a series of questions to decide if you can become a U.S. citizen.
The naturalization test has 3 main parts:
The officer will ask you questions about your Form N-400.
An English test to check your ability to speak, read, and write basic English.
A civics test to check your understanding of the U.S. government and history.
You will have to take an oath, to tell the truth at the start of the naturalization test. The interview normally lasts approximately 30 minutes but this may be different for each person.
What to bring to your naturalization interview
Review the instructions for Form N-400 for a full list of documents to bring with you to the interview starting on page 11. These items will include:
Appointment notice
Form N-400
Permanent resident card (green card)
State-issued identification (such as a driver's license)
All valid and expired passport and travel documents
Proof of current legal marital status
Tips to prepare for the day of your interview
Confirm the location, date and time of your interview
Collect all the documents you need to bring with you
Dress professionally — wear a dress or slacks and a shirt and tie or a blouse
Arrive early at the field office
Greet the officer with a smile
Arriving and meeting the USCIS officer
Show your appointment notice when you arrive at the field office. You will have to pass through a security check. You may have to wear a mask and show proof of COVID-19 vaccination. You will sit in the waiting room until the immigration officer calls you for your interview.
Questions about Form N-400
The officer will review your answers to the questions listed on your Form N-400. The officer will also ask you if there are any changes to your application. These questions help the officer confirm that the information in your application is true and up to date.
Naturalization English test
The English test has three sections: speaking, reading, and writing.
Speaking — You must show you can speak and understand English.
Reading — You must read 1 out of 3 sentences out loud correctly.
Writing — You must write 1 out of 3 sentences in English correctly.
Naturalization civics test
The civics test has questions about the United States government and history. There are 100 questions you could be asked. You must answer 6 out of 10 questions correctly. There is a 2020 version of the test with more questions but people usually choose not to take this test.
Naturalization test exemptions
Some people do not have to take the English test or the whole civics test.  Some people can take the civics test in their first language using an interpreter. There are also accommodations for people with disabilities. Learn more about the exemptions and accommodations.
USCIS will schedule your interview after they have reviewed your application and background check from your biometrics appointment. You will receive an appointment notice with the date, time, and location of your interview.
You can look up estimated processing times for your local office. You can also check the status of your application online by typing in your receipt number.
Can I reschedule my appointment?
If you are sick or have an emergency, you can ask to have your interview rescheduled. Contact the field office on your appointment notice to reschedule your appointment.
After you have completed the tests, the officer will make a decision on your case. If the officer cannot make a decision that same day, they will mail their decision to you at a later date.
USCIS reports 91% of applicants passed the naturalization test on their first try.
The officer will make a decision in your case after reviewing your application and English and civics test results.
The officer will grant your application if they find you are eligible for naturalization. Your application will be approved if you pass both the English and civics test.
The officer will deny your application if they find you are not eligible for naturalization. Your application will be denied if you failed the English or civics test twice.
The officer will continue your application if they need more information or evidence. Your application will be continued if you do not pass the English or civics test for the first time.
If your application is granted, USCIS will schedule you for a naturalization ceremony.
If your application is continued, you will be given the next steps.
If you are missing evidence, USCIS will send you a letter requesting specific information and documents. You must respond within the timeframe specified by the officer.
If you failed your first English or civics test, USCIS would schedule a second naturalization test. Typically, you will retake your test 60-90 days after your first interview.
If your application is denied, you still have options.
USCIS will send you a letter explaining why your application was denied and how you can file an appeal. A different immigration officer will schedule a review hearing in your case. You must file Form N-336, Request for a Hearing on a Decision in Naturalization Proceedings within 30 days of receiving your decision.
If you do not appeal your case, you can reapply for naturalization. You will have to file a new application and attend a full interview.
Be prepared for your naturalization test
USAHello offers a free online class to help you prepare for the citizenship test. You can take this class in English, Arabic, French, Spanish, Swahili & Vietnamese.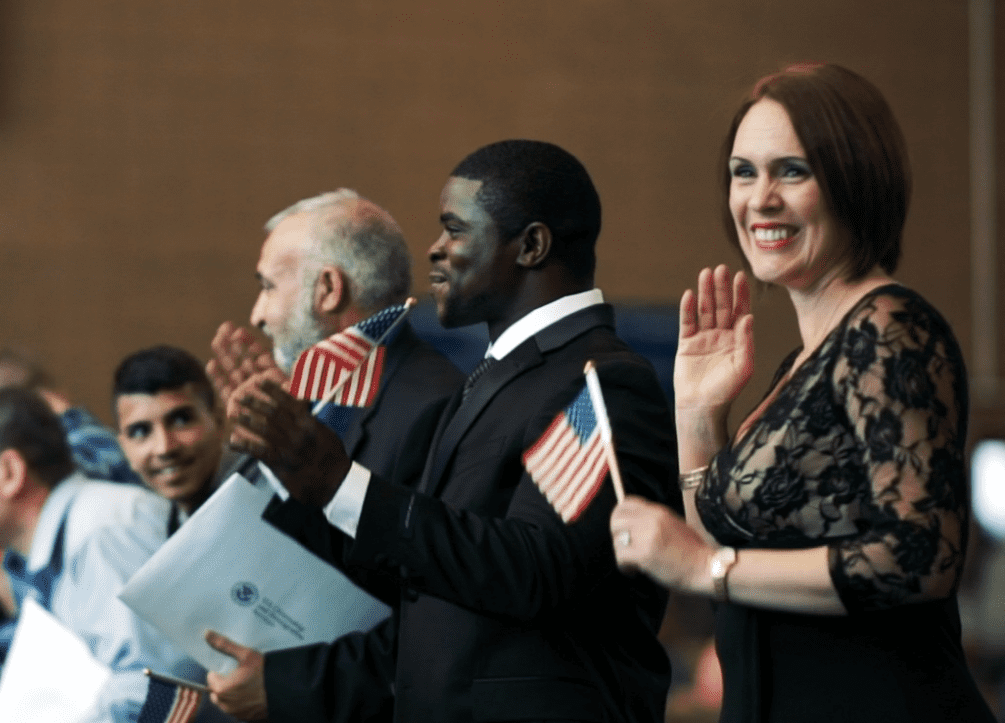 Бесплатное тестирование по подготовке к получению гражданства США
У USAHello есть бесплатный онлайн-курс, чтобы помочь вам подготовиться к тестированию по натурализации (получению гражданства).
Перейти к курсу
---
The information on this page comes from trusted sources, including USA.gov and USCIS.gov. We aim to offer information in plain language that is easy to understand and updated regularly. This page is for guidance. USAHello does not give legal advice, nor are any of our materials intended to be taken as legal advice.