A former refugee joins the Arizona police force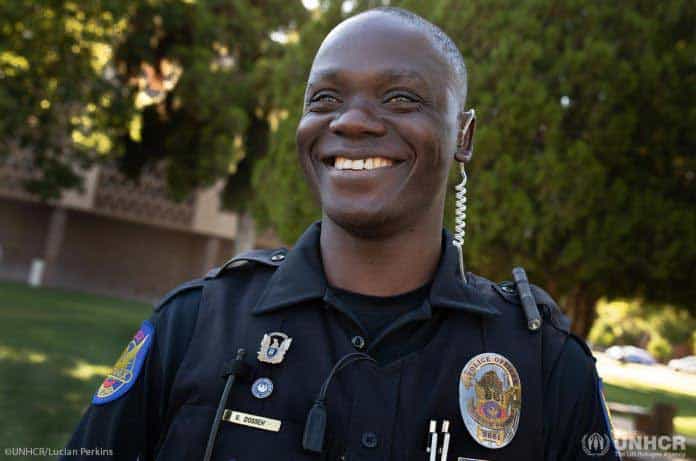 Germaine Dosseh is a former refugee who fled his home country of Togo and came to Arizona to seek safety.
Germaine Dosseh was born in the West African country of Togo. The Arizona police force is probably the last place he thought he'd end up.
Togo is a country that is criticized for numerous human rights abuses. Dosseh and his family had to flee Togo to save their lives. A relative of theirs was a soldier in Togo's army. Germaine had a relative who was forced into the army and refused to carry out an order. He was sentenced to death. Because they were related, Dosseh and his family were also sentenced to death.
This wasn't the first hardship his family endured. Shortly after civil war broke out in Togo, his father was forced into the war. Dosseh recalls that one day men came for his father and that his father never came back.
Even before this incident, however, they planned to flee Togo. Executions and other violence were commonly carried out in front of them. They knew it was only a matter of time before it was their turn.
Knowing that the Togolese army was already coming to kill them and having no form of transportation, they fled by foot.
They walked approximately 150 miles, through the brush to neighboring, Ghana. For fear that they'd be killed, Dosseh and his family settled in a refugee camp near the Gulf of Guinea. They, like most refugees, didn't plan to be there for long. However, they lived in the camp for 15 years. Sadly, the length of time refugees spend living in camps varies dramatically. Sometimes, it's 5 years, sometimes 20.
Back then, Germaine Dosseh was just a teenager. He could never have imagined spending the rest of his childhood in a camp. But Dosseh and his family waited years to be resettled, a privilege only 1% of refugees receive. Finally, his family received a letter addressed to them at the camp.
After their names appeared on a list to be interviewed, they waited another 7 years to be resettled.
Following intense vetting, background checks, security checks and interviews, the family was finally resettled in the USA.
When Dosseh came to America, he worked in a meat processing plant. Then he worked as a security guard while studying to be a pharmacy technician. He felt fulfilled but he wanted to give something back to the country that did so much for him. For that reason, Dosseh joined the army. Though physically fit enough for the army, wielding a weapon was difficult for him. It brought back painful memories of war.
Dosseh persevered, however, and completed tours in Afghanistan. In order to be closer to his family, however, he left the army and joined the Phoenix, Arizona, police force.
He joined the Arizona police so he could continue to help people, and it couldn't be a better fit. Just like in the army, Dosseh is known for his amazing running speed and physical fitness.
Most of all, he has an amazing ability to communicate. About 75% of the Phoenix police department is white and speaks English. In contrast, Dosseh is part of the 4% of officers in the department who are of African descent. What's more, Dosseh speaks seven languages. He even sometimes assists official translators, who mostly speak Spanish and sometimes Hindi, Vietnamese, and Hungarian. Dosseh is also known in the Arizona police force for his ability to de-escalate volatile situations.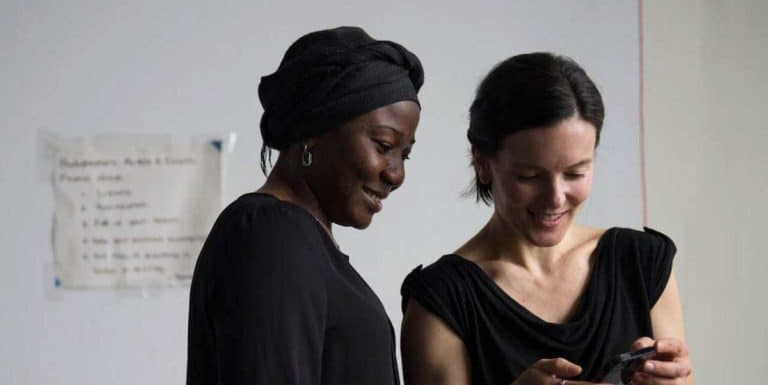 Welcome newcomers to your community
Get informed, volunteer, and find other ways to welcome our newest neighbors in the USA.
Як допомогти
His kindness and communication skills help Germaine Dosseh interact seamlessly with a variety of individuals in his work with the Arizona police.
On his days off from the Arizona police department, Dosseh speaks at churches and community centers. He teaches refugees, telling them about his story and how they too can succeed in America. Dosseh never dreamed of working with the Arizona police. In fact, he didn't even know where America was. Today, Dosseh calls America home and patrols the streets of Phoenix like his own backyard.
Akudo McGee is a recent graduate from the University of Amsterdam in the Netherlands. McGee has a Masters degree in European studies. Her field of focus is forced migration.