A refugee's story about mental health care
When I came to the USA, I learned a lot about my new home because I was passionate to learn about new cultures.
My name is Halah and I am a former refugee. I came to the USA in 2012 and became a U.S citizen last year. I was passionate about understanding the culture, making new friends and building up my new life. I also wanted to get more experience be a part of the community. After I finished learning English and earned my degree, I decided to volunteer in an international organization that helps refugees. Part of my job was to help refugees access mental health care when needed.
I worked as a case manager in the economic empowerment department, in order to help the refugees from many different backgrounds. I am working as a Community Health Promoter now. I educate, advocate, and help the new refugees regarding the healthcare system in the USA. This includes many topics and one of them is how to cope with stress, and how to access mental health care.
Many new refugees are stressed by the challenges of their new life or from the circumstances that they came from. They came from wars or other bad situations in their homeland. Some of them suffer from stress, trauma, or other mental illness such as anxiety.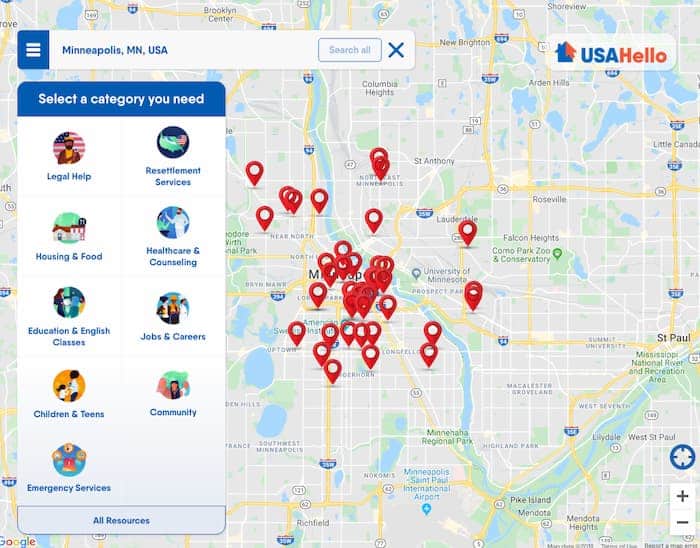 FindHello
FindHello has help and services for immigrants, refugees, asylum seekers, and undocumented people in the USA. Search for job advice, lawyers, healthcare, English classes and other services near you.
However, in many countries, it is shameful if you visit a mental health care professional.
But it is a very normal thing to do in the United States. I volunteered in a different organization that provides mental health care help and advocates to avoid stigma. I also became a member of the Refugee Wellness Council, which works on minimizing the stress that affects the life of refugees.
My wish is that all refugees are able to start a happy new life far from stress. I wish that they can cope with their circumstances, and have hope for a better future, and not give up. There is always hope for the best – just do what you can.
If you feel that you need help, don't be ashamed to get it.
You can always get help with accessing mental health services. It can be through your refugee organization or by asking your family doctor to make you a referral. If you need with finding nearby specialists, you can call your health insurance and ask for an interpreter for your language. Then you can ask about any questions you have.
There are also hotlines for preventing suicide you can call if you feel that someone is in danger. You also can call 911 to get some help in case if anyone is in a dangerous situation. Remember, you can ask for an interpreter because the police line has one in case you don't speak English. A mental health counselor is another professional that you can find in the USA but may not be found in some countries. This type of service can be found at schools, inpatient facilities, clinics, and hospitals, and even in private practices. There is a psychologist, and psychiatrist also, and each of them is different. Think about your problem and what kind of treatment you need when you choose.