US visa application
Every year, many people travel to the United States to visit, to study, to do business, or to stay.
As a social worker who works with refugees and immigrants, I often get questions about the US visa application and how to apply for family members.
My main advice is to ask a trusted lawyer or an accredited representative, or check the US Department of State website. This post is not meant to provide any legal advice, but it will list some helpful links and resources that can help with understanding the US visa application and the different visas available.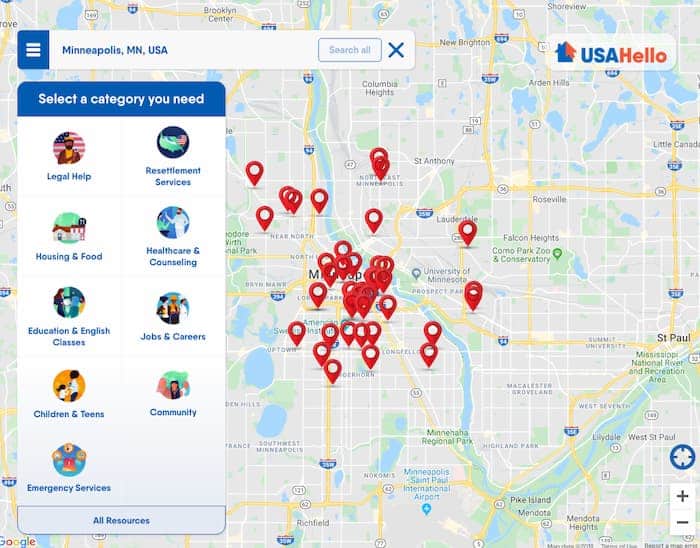 FindHello
FindHello has help and services for immigrants, refugees, asylum seekers, and undocumented people in the USA. Search for job advice, lawyers, healthcare, English classes and other services near you.
Start your search
US Department of State
The US Department of State website contains detailed information about all the types of visas available. It also has detailed answers to some basic visa questions. Whether a citizen of a foreign country wants to study, work, or migrate, I recommend visiting the website first to learn more about the different types of visas and visa applications available. The website also contains a "Visa Wizard" tool that recommends a visa depending on the answers to simple questions.
Visa Waiver Program
Thirty-eight countries qualify for a visa waiver. This option allows you to travel to the US and stay for no more than ninety days without a visa. To learn more about this option, visit the Department of Homeland Security to learn more about visa waivers.
Using accredited representatives or lawyers
When seeking the help of a lawyer or a representative to complete the visa application, you must find out if they are allowed to give the legal advice.
IMPORTANT: To avoid immigration fraud, check the status of the lawyer or the legal representative before taking advice from them! Use only trusted resources to find legal help.
Avoiding visa application fraud
Honesty is very important. Not telling the truth on the visa application can cause a lot of problems. Make sure to go only to trusted government websites, or ask trusted people for help with completing the visa application.
IMPORTANT: If people ask you for a lot of money with the promise to help with US visa applications, it is probably a scam.
Keeping your visa application organized
Keeping copies of your visa application and all the required documents is important. Also, keeping copies of the notices issued after submitting the visa application can help the applicant to check on the status of the application. Providing the necessary paperwork can reduce the possibility of getting denied due to the missing documents.
If your application gets accepted, you will travel to the nearest US consulate or embassy to receive your visa.
Coming to the United States is a great opportunity, and it changed my life to the best. Good luck in exploring the different types of visas!