Some refugee and immigrant parents have never had someone else take care of their children. Not all parents in the USA have the option to take care of their children on their own. They often need to work and find others to watch their children. Learn how to share childcare with those you know, find paid options, and free and low-cost professional care.
---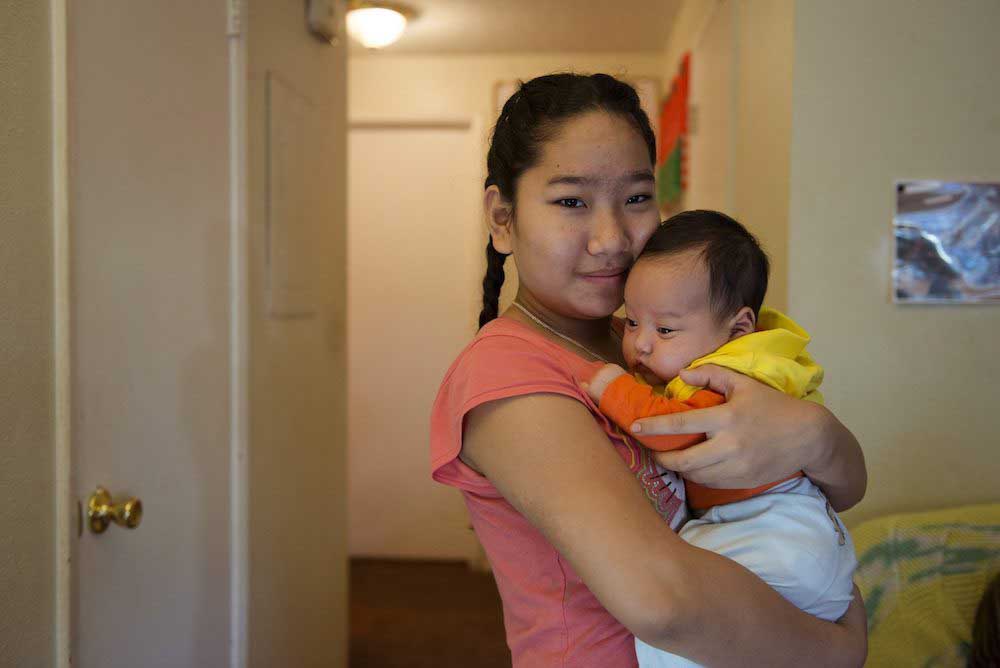 Many refugee and immigrant mothers have never worked outside of the home or used childcare services. In the USA, you will probably have to work outside of your home to have enough money, especially in a single-parent household.
Can I manage without childcare?
You may find it possible to manage without professional paid childcare.
Sharing care with your partner
You and your spouse or partner may be able to work different hours so that you do not have to send your children to daycare. This can save you money, but it also means you might not see each other as much. This can also be hard for men from some cultural backgrounds, who are not used to taking care of their children.
Sharing care with other families
You may be able to find another parent who will "swap" childcare with you. This means you will watch their children one day, and they will watch your children the other day. This is a good idea if you have family, neighbors, or friends who have children close in age to your own children.
Paid childcare
Daycare
"Daycare" means the daily care of your children by someone other than you, typically outside of your own home.
There are different types of daycares.
In-home daycare. This means you send your child to somebody else's home who watches the kids. 
A daycare center. They are not in a private home, and they usually have more children at them.
Most daycares require you to register and pay monthly. Some cities have drop-in daycares where you can bring your children for just a few hours.
State governments license in-home daycares and daycare centers. This means they check if the daycare is safe or not. The state also makes rules for daycares to follow. We recommend you choose a daycare that is licensed. 
You can search for childcare by state and find a list of options.
Babysitters
A babysitter is a person you pay to watch your children. Most babysitters will come to your house. Sometimes teenagers will babysit. Only use babysitters you know and trust or who have been recommended to you by people you know and trust. It would be best if you ask your babysitter to take a CPR (Cardiopulmonary Resuscitation) and First Aid class.
Summer camps
During the summer, you may be able to find day camps to send your child to. In the USA, camps do not mean camping outdoors. 
Children go for the day and usually focus on a particular activity. For example, you can find sports camps, art camps, drama camps, church camps, etc. Often your city will have its own camp options that can be less expensive than others. Most day camps also offer reduced fees for low-income families. Ask at the school or community center about summer camps.
There are residential camps too, where children go and stay for a week. These are likely to be for sports or other outside experiences. Some are for studying – for example for learning computer skills. Many summer residential camps also offer reduced fees for low-income families.
Free and low-cost professional childcare
Preschool
You can send your children to preschool when they are about two years old. Preschools help prepare kids for school.
The U.S. has a national program called HeadStart, which offers free preschool for low-income families. You can find a HeadStart program near you by searching the HeadStart locator.
After-school programs
If you need childcare before and after school, you should look into after-school programs. These programs will help your children adjust to their new schools, make friends, and get help with homework.
Many schools will offer low-cost or free after-school programs for kids. There might even be specific programs just for refugee youth.
Ask at your child's school to see if they know of any after-school programs that would be good for your child.
The Boys and Girls Club of America has clubs all over the USA.
The YMCA has after-school programs and also offers childcare and Headstart programs. 
You can also search for a local organization in FindHello. Choose your language, then choose your city. Then select "Children & Teens."
Find a program searching the Afterschool Alliance.
The information on this page comes from trusted sources. It is intended for guidance and is updated as often as possible. USAHello does not give legal advice, nor are any of our materials intended to be taken as legal advice. If you are looking for more information on childcare, you can visit the U.S. Department of Health and Human Services, Administration for Children and Families.