Uniting for Ukraine parole program
Uniting for Ukraine is a special parole program for Ukrainians fleeing the Russian invasion. Parole allows people in urgent need to come to the U.S. temporarily without a visa. Find information on parole, sponsors, eligibility, and how to apply.
更新 3月 14, 2023
---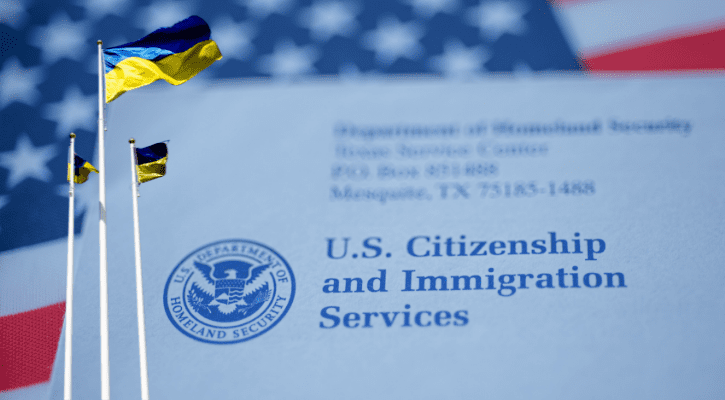 What is Uniting for Ukraine
The Uniting for Ukraine program could allow you to come to the USA for up to 2 years. You will also be eligible to work in the U.S. during that time. A Ukrainian in this program is called a beneficiary. 
To apply for the program, you must have someone in the U.S. who is able to support you during your stay. This person is called a supporter or a sponsor.
Uniting for Ukraine is not for Ukrainians already in the USA. If you are in the USA, temporary protected status may be a good option for you.
Who can be a beneficiary
You must meet the following requirements:
Ukrainian citizen with a valid Ukrainian passport (or an immediate family member of a Ukrainian citizen)
Lived in Ukraine right before invasion (through February 11, 2022)
Had to leave home due to the invasion
Currently are outside of the USA
Have a sponsor in the USA
Pass background and security screening
Vaccinations and medical requirements
Immediate family members in the process include a spouse, common-law partner, and children under 21.
Children under 18 must travel with a parent or legal guardian under this program. If a child is coming to join a parent already in the U.S. they can apply through the regular humanitarian parole program.
Who can be a supporter
A supporter or sponsor is someone who is willing to apply for you to be in this program. They must prove they can provide you with financial and other help for 2 years. They must have legal status and live in the USA.
A supporter can be a:
U.S. citizen
Lawful permanent resident (green card)
Nonimmigrant in lawful status
Asylee, refugee, or parolee
TPS holder
DED recipient
DACA recipient
A supporter must:
Prove to have financial resources to support you for your entire time in U.S.
Pass security and background checks
Examples of types of help a supporter should be available to offer:
Provide transportation from the airport
Provide safe housing while in U.S.
Help complete needed documents
Ensure health and medical needs met
Help with finding a job, school enrollment, learning English, and other needs
A supporter can also apply with others or on behalf of an organization or business that will also provide support. If they are applying on behalf of a business or other entity, they should include a letter of commitment.
How can I find a sponsor?
Welcome Connect can help you find a sponsor. It provides a secure, accessible way for potential sponsors and Ukrainians seeking refuge to connect, start a conversation, and mutually agree on sponsorship
On the 15th of each month, the platform will register people looking for sponsorship. Sign-up will open at 14:00 Eastern European Standard Time. Due to high interest, registration for Ukrainians will close after reaching 500 people and open again on the 15th of next month.
How can I become a supporter?
Learn more about becoming a sponsor with our partner Welcome.US.
How to apply
The beneficiary can not start the application process. Your supporter is the one who must first apply. The supporter must file Form I-134A. The supporter or sponsor must file a separate form for each beneficiary, including children. There is no fee for the application.
Process if your supporter is approved
USCIS could determine that Form I-134A is sufficient or request more information to approve your supporter. After your supporter is approved, you will receive an email with step-by-step instructions to:
Submit biographic (personal) information:
Confirm that you meet vaccination and health requirements.
Get Advance Travel Authorization to the United States:
If approved, you will have the authorization to travel to the U.S. for the next 90 days.
You or your supporter must buy your plane ticket and arrange travel.
If you submitted Form I-134 before January 6, 2023, you do not need to fill out the updated Form I-134A.
If your Form I-134A is not approved, you will be told by email. You can apply again by having your supporter, or a different supporter, file a new Form I-134A. You may need more than one supporter in order to show enough financial support for your application.
If you were paroled into the U.S. before Uniting for Ukraine was announced, your parole period may be extended for 1 year. If you entered the U.S. from February 24, 2022 to April 25, 2022, DHS will review your case and decide whether to extend your parole period.
You do not have to submit a request for an extension.
If your parole period is extended:
You can download an updated Form I-94 with the date of your extended parole for proof of legal status.
Your work permit will also be extended if you have one.
You will get an updated Form I-797C in the mail to use as proof of employment authorization.
DHS estimates it will take approximately 4 weeks to review these cases starting with cases who arrived in February 2022.
If you do not see an updated Form I-94 online by early April, email: [email protected]
If you do not get an updated Form I-797C by the end of April, email: [email protected]
The U.S. government has asked people fleeing Ukraine to not travel to a U.S. border. If possible, you should file your application and wait for approval before traveling to the U.S.
If you attempt to come to the U.S. through Mexico you may be denied and returned to dangerous conditions inside Mexico.
What is next once I get parole
If you are paroled in the United States, you will need to do the following after arriving:
Report physical address after 30 days
Get a medical screening within 90 days
Apply for a work permit with Form I-765
Apply for a social security card with Form I-765 or with SSA
Under Uniting for Ukraine, you do not need Form I-765 approved to start working in the USA. You can use your Form I-94 while you wait for approval or your social security card. You also do not have to pay a fee for the form.
If you change locations in the USA, You must report all changes of address within 10 days of moving.
The Department of Homeland Security (DHS) may decide to terminate your parole under certain circumstances, such as if you violate any U.S. laws.
If you need to leave the country after arriving in the USA, you must apply for a special travel document called advance parole with Form I-131. This may be granted if you can demonstrate an urgent need for your travel. If you leave the country without receiving this approval, you may not be permitted to return.
For questions or to get your application status you can send a secure message from your USCIS account or call 800-375-5283 (TTY 800-767-1833) from within the U.S. or 212-620-3418 from outside the U.S. See USCIS Frequently Asked Questions.
---
本页信息来自 USCIS, DHS, U.S. Department of State, 以及其他可信来源。 我们的目标是提供易于理解、定期更新的信息。相关信息不是法律建议。