Find a guide to the different Afghan status categories for recent arrivals. Understand what important actions you still might need to take. There are Afghan benefits also available to you. Learn about your options and ways to get help.
Updated 9/1/2022
---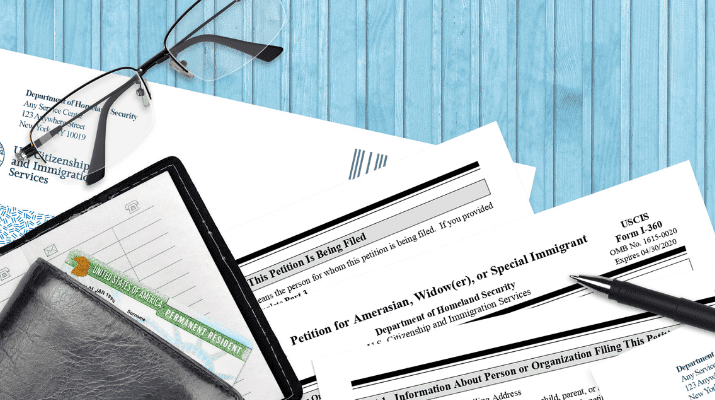 Afghan Status Categories
Afghan evacuees in the U.S. have different immigration legal statuses. Most people will need to file additional legal paperwork to gain permanent legal status in the U.S.
Learn about the different Afghan status categories and what you need to do next.
You can apply for more than one form of protection at the same time. Filing an application for asylum or TPS at the same time as your SIV application will not slow down the process. Talk to an immigration legal representative to learn more about the best options for your case. 
If the Afghan Adjust Act passes, the process could change. We will keep this information updated.
If you change your address you must notify U.S Citizenship and Immigration Services (USCIS) within 10 days, even if you are moving to a temporary location. Updating your address with the U.S. Postal Service does not update your address with USCIS. Visit the USCIS Change of Address page to update your address online, or print form AR-11.
Special Immigrant Visa (SIV) Applicant (You entered on humanitarian parole with an OAR stamp. You did not have an approved I-360 when you entered the country.)
To be eligible for an SIV you must have been employed by the U.S. government, a U.S. contractor, or ISAF in Afghanistan for at least one year.
Your current parole status is temporary and lasts for 2 years. You will need to take further action to stay in the U.S. At any time during your application process, you may receive requests for more information. A legal services representative can help make sure you submit the correct documentation. Find legal help.
Afghan Status

Action Needed

You are eligible for an SIV but you have not applied.


July 20, 2022 update: the process for new applicants has changed to be easier. You will submit a Petition for Special Immigrant Visa (Form DS-157) together with your documents for Chief of Mission (COM) approval. 

Once you have both a signed DS-157 and COM approval, you can apply for a green card. New SIV applicants no longer need to file Form I-360. 

You will need to provide:
– Verification of employment
– A recommendation letter from your supervisor
– Proof that you worked for an eligible company
– Proof of Afghan nationality
– Biographic data

If you applied before July 20, 2022, you will follow the instructions below. 

You applied for COM approval and you are waiting for a result.

You received COM Approval before July 20, 2022.

You have submitted your I-360 SIV application and you are waiting for a result. 

You must wait for approval before you can apply for a green card. You will receive your decision by email. You can send a case status inquiry regarding your I-360 to this email address

[email protected]

If you did not include your spouse or child on your original application, you

can add them now

. 

You have received I-360 Approval.

Congratulations, you are now eligible to apply for your green card. You must file

form I-485

. 
Humanitarian parole with OAR stamp who is not eligible for the SIV program
Your parole status is temporary and lasts 2 years. If you do not meet the requirements for the SIV program, or you do not have the required documentation, you must be approved for a different status before you can get your green card.
For many Afghans in this situation, the best option may be to apply for asylum. This is a long process and you must file your application within one year of arrival in the U.S. You may be eligible for an exemption to the one-year deadline if you apply before your parole expires. Learn more about applying for asylum.
Find legal help to assist you with this process.
Special Immigrant Visa (SIV) holder with SI/SQ stamp
Once you have an approved I-360 SIV, you can file form I-485 application for a green card.
Refugee
If you entered the U.S. as a refugee, you can apply for your green card one year after arrival. Your resettlement agency can help you find legal help to complete this application.
Temporary Protected Status (TPS)
The U.S. announced Temporary Protected Status (TPS) for Afghans who are in the U.S. as of March 15, 2022. If you are already in the U.S., this status temporarily protects you from having to go back to Afghanistan. TPS does not mean you are eligible to apply for a green card.
Learn more about how to apply for TPS Afghanistan.
You are outside of the United States
If you are outside of the U.S. and you are looking for immigration options to come to the U.S. or another safe country, you can learn more by visiting the International Refugee Assistance Project. You can find additional tools and resources with AfghanEvac.
Benefits for Afghans arriving in the U.S.
After leaving the safe haven military bases, Afghan evacuees can get support to help settle into a new community. This section explains what services and benefits are currently available to Afghans who have entered the US as refugees, Special Immigrant Visa (SIV) holders and those who entered on humanitarian parole. As listed in the above Afghan status section.
In March 2022, the U.S. approved Temporary Protected Status (TPS) for Afghans already inside the United States. With TPS you can apply for work authorization, but you are not eligible for public benefits. Learn more about TPS Afghanistan.
Afghan Benefits

Description

Basic needs support 

When you first arrive, you can get help with housing, food, adjusting to US culture, and other basic needs. 

For the first 30-90 days this is provided by refugee resettlement agencies through the Reception & Placement Services (R&P) or Afghan Parolee Assistance Program (APA). These services may be provided by a resettlement agency or by volunteers from the community. 

Virtual services

Social services by the Office of Refugee Resettlement (ORR)

Ongoing help with jobs, case management, and other services such as English as a Second Language (ESL) is provided by refugee resettlement offices and community-based organizations (NGOs). 

The types of long term services provided will be different from one place to another. Find your local resettlement agency and connect to other local services with

FindHello.

Public cash assistance 

You may receive cash assistance when you first arrive. The amount that you receive and the length of time you can receive it will depend on your family size, age, and the place where you live. Once you get a job, the amount can go down or stop. 

Public cash programs include ORR Refugee Cash Assistance (for adults without children); Temporary Assistance for Needy Families (TANF) for families with children; and the Supplemental Security Income program for the elderly, blind, or disabled.

Learn more about managing money in the U.S.

Healthcare and medical insurance

In the USA, most people use medical insurance to help pay for

healthcare

. The type of insurance you can get will be different depending on the state you live in and your circumstances. After you start working, you may get health insurance through your job. 

Any person – even if you do not have insurance – can access care through a

community health clinic

. Learn more about

health coverage options for Afghan evacuees

.

Monthly food assistance through SNAP (Supplemental Nutritional Assistance Program)

SNAP is a government program that helps people pay for food when they do not have enough money. A refugee resettlement office can help you apply for this program.

You will receive a card that is like a debit card to use at the grocery store. The amount of money you receive will depend on what state you are in and how many people are in your family. Once you start working the amount may go down or stop. 

Help for families with children

If you have children, you might be able to get help to pay for child care when parents are working.

You are also able to get support for young children including preschool, home visits, and food assistance provided through Head Star; the Maternal, Infant, and Early Childhood Home Visiting Program; and the Special Supplemental Nutrition Program for Women, Infants, and Children (WIC).

Help with jobs

There are programs to help you with finding a job, preparing a resume and accessing other services like English classes or job training programs. You can get help through your resettlement office or local programs through the department of workforce services.

Learn more about finding a job in the U.S.

Housing assistance

If you have low income, you might be able to get government help to pay for housing through HUD Public Housing and Section 8 housing assistance programs. These programs can have long waitlists and are different in each location.
It is important to know that the resettlement of Afghans is a large-scale evacuation effort. The services may be different from one place to another.
You can find more information in Dari and Pashto in USAHello's Afghan Resource Center.
Information for this page comes from the IRAP U.S. Special Immigrant Visa Program, CLINIC, Migration Policy Institute (MPI), and Switchboard TA. Special thanks to our friends at CWS for their legal review for Afghan status.
---
This page is intended for informational purposes only. USAHello does not give legal advice, nor are any of our materials intended to be taken as legal advice. Learn how to find free and low-cost legal services.