Fill out paper applications for jobs
When applying for jobs, you might need to fill out a paper application. You will need to list your personal information and job skills. Here are some tips that will help you to fill out a paper job application.
---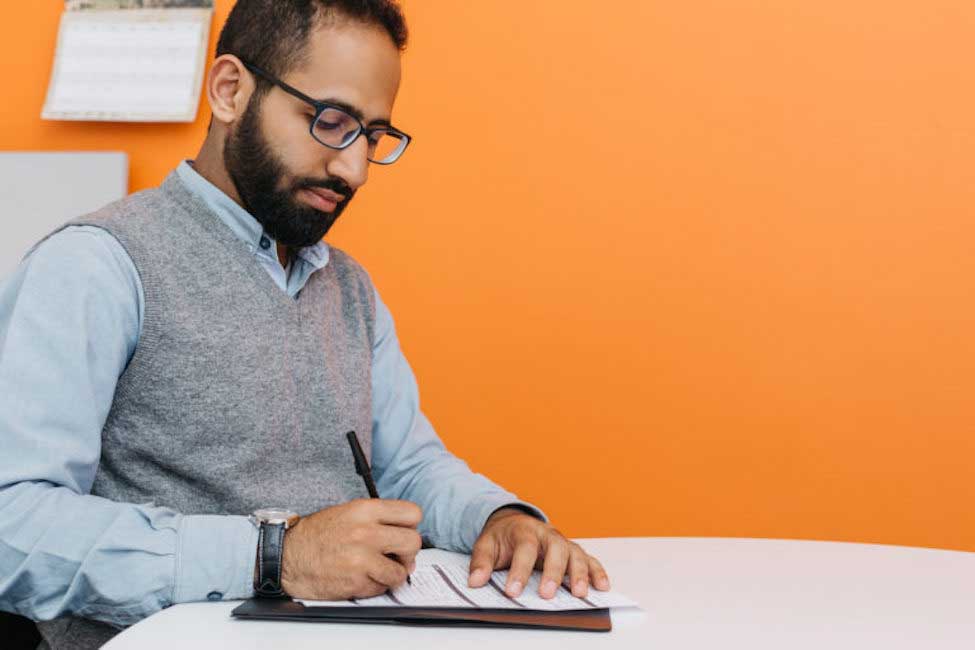 Paper applications are forms you use to apply for jobs. They ask you about your education, skills and job history. It is important to fill out paper applications correctly. This can be tricky because you can't erase your answers. Try not to make any mistakes, and always tell the truth! Here are some tips that will make it easy to fill out paper applications.
1. Practice with a sample job application
Download this sample job application and fill it out. When you click on the link, the document will open. Use the down arrow to download it.
Once you have have it filled out, you use this example when you are ready to fill out a real application. Keep it to copy the information you need, like the dates you worked at a company. You can read more about how to get your information ready for a job search.
2. Always get two copies of the paper applications
If you are filling out paper applications, make sure you get at least two copies of the application. When you go to the company to pick up the job application, ask for two copies. This way, if you make a mistake, you can start over. Use a pencil when you practice but a blue or black pen for the one you take to your employer. You can also go to the library and make a copy before you start writing in the application.
3. Carefully read the instructions on paper applications
Read the entire instructions before you begin. Take your time to write down your answers on a separate piece of paper to make sure they are correct before putting them on the paper job application.
4. Use a pen and write very clearly
If the employer cannot read your name or phone number, they will not call you for an interview. Try writing using capital letters so your answers are easy to read. Make sure to fill out all of the sections.
5. Inform your references so they are prepared
If you need to list references in paper applications, tell them you are writing them down as references. References are people who have worked with you before. Tell them what job you are applying for and what skills are needed for the job. This way, if they receive a call or an email to follow up on your application, they will be prepared to answer questions about you. if you hear that someone called them about you, thank them for helping you after.
6. Make and keep a copy of paper applications
When applying for jobs with paper applications, always keep copies. You can normally make copies for about 10 cents at your local library. Ask for help if you don't know how to use the copy machine. Write down the name of the company, what job you applied for and when you applied. If you get called for an interview, read what you wrote down on the application before your interview.
7. Dress nicely when you take your application to the company
Applying for jobs with paper applications requires that you mail them or take them to your employer. Dress nicely when you bring the application to the company. For men, wear a long-sleeved shirt, dress pants, and dress shoes. For women, wear a nice dress, a skirt with a work blouse, or a suit with dress shoes. When dropping it off, be polite to everyone you meet. Remember, in American culture, it is good to smile. Smile when you arrive, and ask if the manager is available. If the manager is available, tell them you are dropping off your job application and you are very interested in the job. Smile and tell them thank you.
8. Make sure to answer your phone and check your email
The employer will look at all the applications and then select some people for an interview. Be sure to answer your phone even when you don't recognize the number that is calling. Listen to your voicemails as soon as you can and call back quickly. Check your email often so you don't miss your invitation for an interview. If an employer is interested in an interview, do your best to come in at the time they ask you to. It is better not to make them re-schedule. You only should if there is an emergency.
9. Follow up after applying for jobs
If you do not hear back within two weeks of submitting your paper application, it is okay to call or email the employer to ask about the status of your application. However, it is normal if you do not hear back, so don't give up. Employers receive a lot of job applications for every position that is available. They don't have time to call everyone. Continue applying for other jobs with paper applications even if you are are not able to get updates. One of them will eventually contact you for an interview.
Watch a video about how to fill out a job application
---
هدف ما ارائه معلوماتی به آسانی قابل فهم است که به طور منظم اپدیت می‌ شوند. این معلومات مشوره حقوقی نمی‌ باشند.