Newcomers arriving in the United States face a range of challenges. On this page we will look at mental health issues ranging from culture shock to trauma to mental disorders.
---
Some mental health issues are common among all immigrants. Culture shock can happen to any new American coming from a different culture. Trauma is much more common among refugees and asylum seekers who may have survived harrowing events and journeys.
Understanding culture shock and adaptation
Newcomers will undoubtedly undergo some or all of the stages of cultural adaptation. These stages may coincide with language learning. In general the experience of cultural adaptation has four stages:
Honeymoon – feeling happy and excited, lots of goals and expectations
Culture shock – beginning to feel scared, depressed or angry, missing home country, feeling isolated by lack of language skills and social group
Initial adjustment – finding a new normality, developing a routine, acceptance of reality
Integration – feeling at home, navigating daily life comfortably, learning English, melding new and home cultures
The process of cultural adjustment can vary greatly depending on available outside sources of support. Common triggers that can propel families or move them back from one stage to another include finding or losing a support system, finding or losing a job, and experiencing discrimination or a welcoming community.
Understanding trauma
Here is a basic overview of risk factors for trauma and how to identify trauma.
Trauma risk factors
If you look at this list of common risk factors for trauma, you will realize that refugees and asylum seekers are likely to have many of these risk factors:
Living through dangerous or deeply disturbing events
Inter-generational mental illness
Getting hurt
Seeing others get hurt
Feeling horror, helplessness or extreme fear
Having little or no social support during or after the horror, helplessness or extreme fear
Dealing with extra stress factors after the traumatic event
Loss of a loved one
Physical pain and injury
Loss of a job
Loss of a home
Broken trust in core relationship(s)
Feeling alone through horror
Identifying trauma
Trauma is not defined by what occurs as much as by how individuals experience and interpret what has occurred. Many people exist in survival mode and suppress their traumatic experience. Your newcomer neighbor may or may not identify their past experiences as traumatizing to them, and they will probably not fully understand the effects of their past experiences on their future personal and interpersonal development.
Trauma may present itself immediately, or it may become apparent after an initial settling-in period over several weeks or even years. The majority of people who come from an environment that routinely exposes them to horrific acts of violence might, on the surface, seem unassociated or unaffected by any of it. But, when you take a deeper look at their situations, for the majority of them, it's not until they are placed in a better environment – one that is less violent – that many symptoms related to PTSD (flashbacks, withdrawal, and others) start to emerge. Read about the impact of parent-child separation at the border.
Ongoing impacts of traumatic experiences also include physical injuries and illnesses or problems associated with lack of food, starvation and malnutrition, and little or no medical attention.
Understanding terror
Terror is the strongest feeling of fear a person can experience. It changes the way human brain functions by hijacking the neural highways in the cerebral cortex. Especially for children, terror of the unknown can disrupt normal brain development. It produces thoughts such as, What is going to happen? For how long? Will I be the only one hurt? How badly hurt will I be? Will I survive? Their brains can fixate on these questions, shaping the way they interact with the world.
The most common mental and somatic (physical) complaints following traumatic experience include:
restlessness
hyper-vigilance
problems falling asleep or staying asleep
generalized anxiety
inability to relax
shallow breathing
fatigue
an exaggerated startle response to sudden noises, visual cues, or unexpected touch
headaches
backaches
joint disorders
various skin complaints, such as itching and rashes
unintentional weight loss
Terror is frequently a major – if not the major – emotional response to violence, and it often sets the stage for successive trauma. Terror/trauma puts in motion a biochemical chain of events that can result in a number of medical problems and whole-body suffering.
Common mental health issues
Newcomers are also subject to the same mental health issues and challenges as everyone else. Given the upheaval in their lives, and the often stressful or precarious conditions in which they continue to live, newcomers may be more likely to develop certain conditions, including PTSD, anxiety, depression and adjustment disorders. You can learn more about common mental health issues.
Taboos
For newcomers who are dealing with mental illness, trauma or culture shock, there are yet more hurdles. Many refugees, asylum seekers and immigrants come from cultures where mental health issues are either not acknowledged or considered shameful or taboo. It is quite common for people to minimize their past experiences to others. It is also common for people to keep symptoms and fears to themselves.
Help with mental health issues
There are health resources for low-income families, especially in communities welcoming large numbers of newcomers. Most such services will provide medical care to undocumented immigrants. Our FindHello database lists affordable health resources in newcomer communities.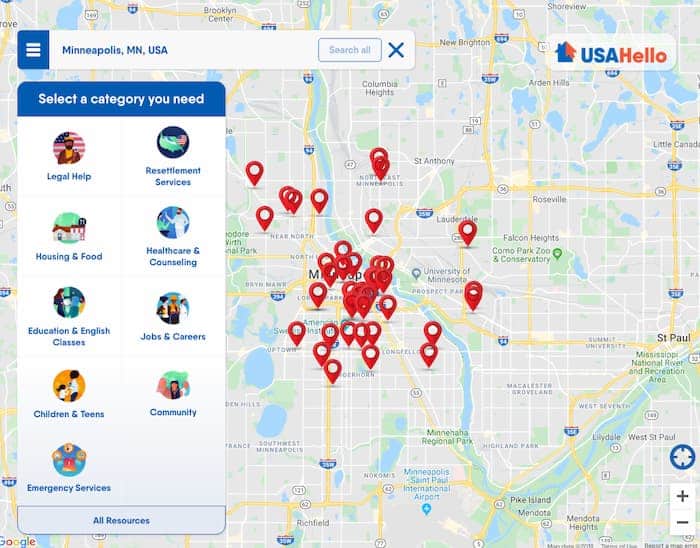 FindHello
FindHello حاوی کمک و خدمات برای مهاجران، پناهندگان و پناهجویان و افراد بی سند و مدرک در ایالات متحده آمریکا می باشد. دنبال مشورت برای کار، وکیل، مراقبتهای بهداشتی، کلاسهای انگلیسی، و خدمات دیگر در اجتماع خود بگردید.
جستجوی خود را شروع کنید
Most states have a form of Medicaid, or low-cost health coverage funded by federal and state governments and managed by individual states. Recipients must be US citizens or legal permanent residents (green card holders or refugees). Recipients include low-income adults, their children, and people with certain disabilities. People living above poverty level are eligible for health insurance under the Affordable Healthcare Act at healthcare.gov.
Below you will find some organizations that offer help everywhere in the USA.