Temporary Protected Status (TPS) for Yemen is extended through March 3, 2023.
On this page, you'll learn the new deadlines and eligibility requirements for Yemenis renewing their TPS and for those applying for TPS for the first time. Also, you'll find information on how to apply for an Employment Authorization Document (EAD) and where to get legal help.
---
On July 6, 2021, the Department of Homeland Security announced the Extension and Re-Designation of Yemen for Temporary Protected Status.
Initially, the TPS for Yemen was to expire on September 3, 2021, and now it has been extended for 18 months.
It will be in effect from September 4, 2021, through March 3, 2023.
This TPS benefits Yemeni nationals and also individuals without Yemeni nationality who had continuously resided in Yemen.
The Department of Homeland Security says that approximately 1,700 Yemenis will retain TPS if they meet the requirements. An estimated 480 Yemen nationals will be able to apply for the first time for TPS.
Here is what you need to know:
If you are under the protection of TPS and you want to maintain your TPS status, you need to re-register during the 60 day re-registration period, from July 9, 2021, through September 7, 2021. It is encouraged that you re-register as soon as possible.
If you are applying for the first time, you must register from July 9, 2021, through March 3, 2023. It is recommended that you register as soon as possible.
Remember that if you don't meet the TPS requirements (for first-time applicants) or don't re-register (if you already have TPS), you may not be eligible to be granted TPS or maintain your current TPS.
To be eligible for TPS Yemen:
You must have continuous residence in the USA since July 5, 2021.
You must have a continuous physical presence in the U.S. since September 4, 2021. As proof, you can provide documents from work, school, or utility records.
You will undergo a background check— anyone who has been convicted of any felony or two or more misdemeanors in the United States may not be eligible for TPS.
You will need to provide identification, such as a passport or birth certificate from your home country.
How do I apply for TPS?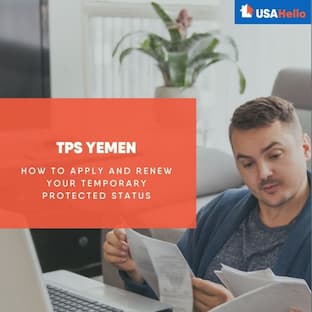 To apply for TPS, you will need:
To register or re-register for TPS Yemen, you need to file an Application for Temporary Protected Status, Form I-821. You can find it here.
Pay a $50 application fee and an $85 biometrics fee.
If you want to request a work permit, known as the Employment Authorization Document (EAD), you need to pay a $410 fee to file Form I-765. You can find the EAD form here.
You can mail your application using one of these options:
U.S. Postal Service. You'll need to mail your application to:

Or using FedEx, UPS, or DHL. You'll need to mail your application to: 

U.S. Citizenship and Immigration Services
Attn: TPS Yemen
P.O. Box 6943
Chicago, IL 60680-6943

U.S. Citizenship and Immigration Services
Attn: TPS Yemen (Box 6943)
131 S. Dearborn St., 3rd Floor
Chicago, IL 60603-5517
To know more about Form I-821 and Form I-765, you can visit the USCIS Instructions for Application for Temporary Protected Status page.
What if I already have a work permit, employment authorization (EAD)?
Your work permit or Employment Authorization Document (EAD) is automatically extended through March 2, 2022. You can visit the USCIS official page for more details.
You can refer to our TPS page for more information on other countries with the Temporary Protected Status designation.
Be aware of scams
USCIS documents are free. Do not pay to obtain any of the USCIS forms. You can download them from the USCIS website.
Be aware of people who ask for payment to get these forms and claim they can file your TPS application. To know more about how to avoid scams, you can click here.
What happens when TPS Yemen expires?
If your TPS expires, your legal status will go back to what it was before. You can apply to change your status, or you can leave the United States. 
What can I do?
Keep updated on all new information. You can learn about your options if TPS expires and prepare yourself and your family for your next step.
What if I need legal help?
You can search for a low-cost lawyer on ImmigrationLawHelp.com or on the CLINIC legal directory.
What if I can't meet with a lawyer? What if I can't afford a lawyer?
We know many individuals cannot meet with a lawyer. In immigration law there are also many providers who are non-profits who receive training in immigration law. They go through a process with the Board of Immigration Appeals (BIA) to become accredited representatives. These representatives must work for a non-profit organization and most have low cost or no cost services.
You can search for an accredited representative in the Department of Justice.
Find help online
Immi helps immigrants understand their legal options. You can use their online screening tool to guide you to your best options. Take the immi interview to see if you qualify for different immigration status. Immi's legal information and referral advice are always free.
We know many individuals cannot meet with a lawyer. Here is more information to help you understand your options. This is not legal advice but instead information to help you consider your choices.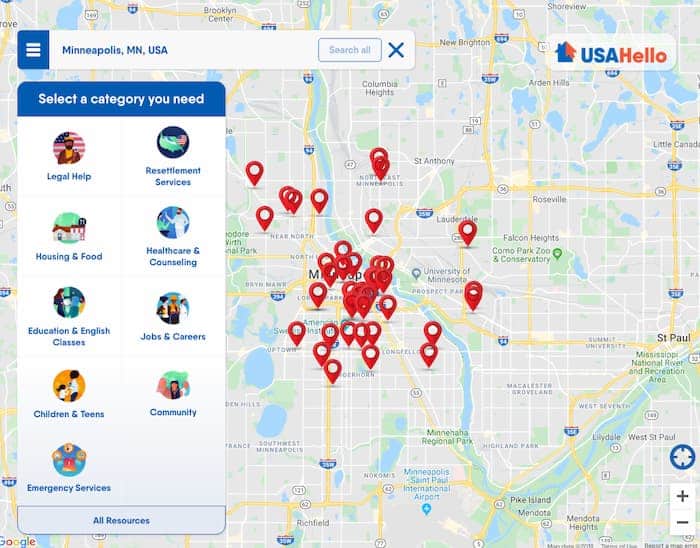 FindHello
تاسو ته د نږدې مرستې او سرچینو د لټون لپاره فاینډ هېلو وکاروئ. په خپله ټولنه کې د دندې لپاره مشورې، وکیلان، روغتیايي پاملرنه، د انګلیسي ټولګي او نورو خدماتو لپاره لټون وکړئ.
خپل لټون پیل کړئ
Applying for a green card as a TPS holder
On June 7, 2021, the Supreme Court ruled that TPS holders cannot apply (under most circumstances) for a green card if they entered the U.S. without inspection at the border. This ruling does not impact your TPS status. It is still valid until the expiration date.
If you are a TPS holder and entered the U.S. with a visa and then overstayed your visa, you can still apply for a green card.
Applying for asylum
Every year people come to the United States seeking protection because they have suffered persecution or fear that they will suffer persecution due to:
Race
Religion
Nationality
Membership in a particular social group
Political opinion
TPS holders can apply for asylum status, especially if they have been here a year or less. If you have been here for less than a year, you should APPLY NOW.
USCIS is reviewing the most recent applications first. Once you apply for asylum, it might be a short time before your case is heard. Make sure to get legal help.
Applying for other protected status
Some TPS holders may stay in the United States under special visas. There are visas for victims of human trafficking, battered spouses, children or parents, and victims of other crimes.
If you think you might qualify for a special visa because of violence, abuse, or another reason, you can contact the Asylum Seeker Advocacy Project.
Can I ask my work to sponsor me?
Your employer may be able to sponsor you. They will have to go through a long process with USCIS. However, usually, only highly skilled immigrants (like doctors and engineers) can find employers who will sponsor them.
What will happen if I stay in the country without documents? (What if I become an undocumented immigrant?)
If you stay in the country without documents, you risk being deported or arrested.
Find out what other options you may have on the USCIS my options page.
Here is information about your rights and what to do if you are detained.
The ACLU created these easy-to-use resources about different situations so you can have your rights at your fingertips.
Arabic, English, Spanish, Somali, Urdu, Mandarin, French, Hindi, and Punjabi languages. Manuals for LGBTQ immigrants, adults, and unaccompanied children.
How to contact the Embassy of Yemen in the USA
You can find your country's US embassy website here.
The address of the embassy is 2319 Wyoming Ave NW, Washington, DC 20008. The phone number is: (202) 965-4760.
Are you looking for information to advocate for TPS holders?
The Interfaith Immigration Coalition offers resources to help you take action.
Information provided with the support of CWS and CLINIC. Other information on this page comes from the Department of Homeland Security, the Federal Register, USCIS and other trusted sources. It is intended for guidance and is updated as often as possible. USAHello does not give legal advice, nor are any of our materials intended to be taken as legal advice. If you are looking for a free or low-cost lawyer or legal help, we can help you find free and low-cost legal services.