Here is updated news and information for asylum seekers coming to the United States. This page covers the recent U.S. Supreme Court order on Remain in Mexico, Title 42, and help for asylum seekers at the U.S.-Mexico border.
---
NOTICE: The asylum fee that was due to start on October 2, 2020, has been stopped by a US court decision. But please check fees before sending in your application.
Supreme Court orders to reinstate the "Remain in Mexico" policy.
On August 24, 2021, the Supreme Court ordered to reinstate the Migrant Protection Protocols (MPP), known as "Remain in Mexico," a policy created by the previous administration in 2019. MPP makes it harder for asylum seekers to ask for asylum.
This policy mandates that people seeking asylum at the U.S.-Mexico border must wait in Mexico while their cases are processed.
President Biden suspended the program on his first day in office, and the Department of Homeland Security ended it in June.
How will "Remain in Mexico" affect asylum seekers?
The order to reinstate the program will affect thousands of people seeking refuge in the U.S.
Under "Remain in Mexico," asylum seekers who arrived at the U.S.-Mexico border will need to pass a credible fear screening with a Customs and Border Protection (CBP) officer and return to Mexico to await their immigration hearing.
If you are seeking asylum at the border and come in contact with a CBP officer, tell them you have a credible fear of returning to your home country. The CBP officer will give you a date for your asylum interview and ask you to wait in Mexico. Make sure to ask for a document with the information of your interview date.
MMP forces asylum seekers to wait in Mexico. This is very difficult because asylum seekers will not have access to legal representation to help prepare their case and they do not have housing, employment, or access to services.
Why did the Supreme Court make this ruling?
The ruling came after a Biden Administration asked the Supreme Court to put on hold the re-implementation of the program. Previously, a federal judge in Texas ordered that the program needed to be reinstated. That order was appealed by the Biden Administration in the 5th U.S. Circuit Court of Appeals, which decided against the government's request.
The Department of Homeland Security (DHS) plans to appeal the district court's order. DHS is having diplomatic discussions with the Mexican government about the implementation of the program. DHS will begin to turn back single adults and families encountered at the southern border.
What are Title 42 restrictions?
Title 42 is part of the U.S. health law that allows the U.S. government to close the border to non-essential travel when facing a health crisis.
The Trump administration instituted Title 42 in March 2020 to expel and turn away people seeking asylum, including children.
On November 18, 2020, the practice of expelling children was stopped by a federal judge. The Biden administration amended the Title 42 order from the Centers for Disease Control and Prevention (CDC) to exempt unaccompanied children. As a result, unaccompanied children are no longer expelled due to Title 42.
Title 42 is being used by CBP to return individuals asking for asylum at the ports of entry to their home countries or Mexico.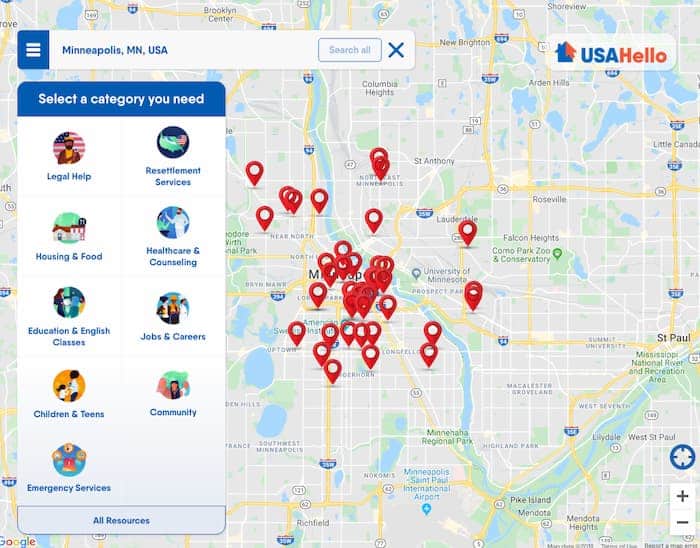 FindHello
Utilisez FindHello pour trouver de l'aide et des ressources près de chez vous. Recherchez des conseils en matière d'emploi, des avocats, des services de santé, des cours d'anglais et d'autres services au sein de votre communauté.
Commencez votre recherche
Help for asylum seekers at the U.S.-Mexico border
It is already very difficult to get asylum status in America. Most asylum seekers are not accepted. The law says you may seek asylum if you have fear of persecution because of:
race
religion
nationality
membership in a particular social group
political opinion
Even if you are coming for one of these reasons, it can be difficult to prove to U.S. officials.. Read this government page to learn more about rules for seeking asylum.
What will happen to me if I arrive on the border seeking asylum for one of these reasons?

All asylum seekers who are seeking asylum may be turned away due to Title 42 or placed under the Migrant Protection Protocol. If you are allowed to enter the U.S., the U.S. government may place you in a detention center for many weeks. In a detention center, you can only leave after the government releases you.
What should I do?
You need to ask for a lawyer. In the United States, you have the right to a lawyer, but you MUST ask for a lawyer.
You need to say, « I want to speak to a lawyer now. » Keep asking every person you talk to for a lawyer until you are given access to a lawyer.
What if I pass my interview? Will I still be detained?
If you have passed your asylum interview (called a "credible fear" interview) you will get a hearing in front of a judge to make your case for asylum. It can take a very long time to get a hearing. You should be released from detention while you wait.
However, some detention centers are holding asylum seekers even after they pass their interview. On July 2, 2019, a federal judge said ICE must not hold asylum seekers after their interview without a good reason. If you are being held after you have passed your interview, ask to speak to a lawyer.
Have you been separated from your child?
If you have been separated from your parent or child while seeking asylum, call the U.S. Immigration and Customs Enforcement (ICE) detention reporting information line at 1-888-351-4024. There are Spanish-speaking operators available and it is a free service. Hours are Monday to Friday 8:00 a.m. to 8:00 p.m. (Eastern Time). If you are calling from inside an ICE detention facility, use speed dial 9116# on the free call platform.
ICE works with the Office of Refugee Resettlement (ORR) to locate children. You can also call the ORR Parent Hotline at 1-800-203-7001 if you believe the US government has your child. If you are calling from an ICE detention facility, use speed dial 699# on the free call platform. Available 24 hours a day, 7 days a week, in Spanish or English.
You (or your friends, family or lawyer) can also contact ICE or ORR by email:
The information on this page comes from CLINIC, the Department of Homeland Security, the Federal Register, USCISand other trusted sources. It is intended for guidance and is updated as often as possible. USAHello does not give legal advice, nor are any of our materials intended to be taken as legal advice. If you are looking for a free or low-cost lawyer or legal help, we can help you find free and low-cost legal services.