In the USA, people choose to move to a new city for many reasons. All newcomers have the freedom to move when they choose. Some of the reasons people move are for a better job, to be close to relatives, to find a place that is more affordable, and for education. It is a big decision for you and your family. Learn what questions to think about before moving, steps to take as you prepare to move, and get tips for moving.
---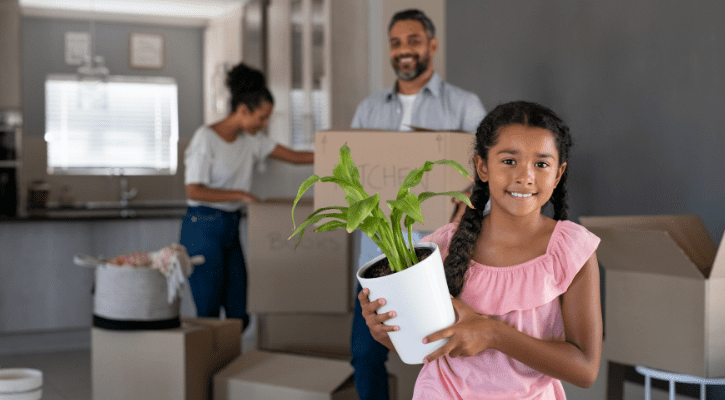 Questions to think about before moving to a new city
To help you decide whether moving is a good idea, consider why you want to move and if you will be able to find better opportunities when you move. Here are some questions you can think about before you move:
Logistical questions
Is housing available in your new community?
How much will an apartment or house cost in the new city?
Do you need to sell the furniture and other items in your current house/apartment?
Are there nonprofits that provide services to migrants or refugees in the new community?
You can use FindHello to find organizations in your new city.
What is the weather like in your new community? Do you have clothes for this new environment?
Location questions
What is the crime rate in the area you are planning to live in?
Are there special taxes or different city laws you'd need to know?
Is there public transportation, or will you need to obtain a driver's license?
How long will your commute to work or school be?
Do you like living in a place with a lot to do? What kind of community events and activities does the area offer?
If you are religious, is there a place of worship for you?
Is there a community of people from your home country? Are there stores that provide foods and other items from your culture?
Work questions
What jobs are available in the new city?
If you are planning to accept a job because it pays more, have you considered the cost of living in that new city?
How do you quit your current job?
Education questions
Are adult education and ESL courses available in your new community?
What is the quality of the public schools in the new community?
Family and friends questions
Do you have family or friends in the new community? Will you be able to stay with them?
Do you know anyone else in the new area? How will you meet friends to help you?
Will you have childcare in the new community? What will it cost?
Do you or any of your family members have special medical needs? Is there medical care in that area?
Important things to do when you move
Here are some helpful steps to follow if you decide to move:
If you are a refugee, be sure to tell your caseworker you will move.
If you have a lease on your apartment, make sure you follow the lease rules. You probably need to give your landlord at least 30 days' notice to get back your security deposit. On a piece of paper, write that you will move and sign it with your name and the date.
If possible, find a place to live in your new city before you move. You can research places online. But, do not give anyone money through any website. Wait until you can see the apartment in person.
If you are a green card holder or have another immigration status, you must file a change of address form with USCIS. If you are in immigration proceedings, you must also notify the Immigration Court.
You also need to change your address with the U.S. post office. This will make sure you receive any important documents or mail. You can either use the online form or go to a local post office to complete the form. If you do it online, you will be charged $1 to prove your ID using a credit or debit card. If you do it at the post office, you will need to bring an ID with you, such as a driver's license, but there will be no charge.
If you need professional movers, make sure to search for the right size mover according to your needs. Make sure to read the contract with the movers and know the conditions of the document.
Try to sell items and furniture you cannot bring with you. You can have a garage sale or post items online.
Tell friends you are moving. They might know someone in the new city who can help you. Make sure you give them your phone number and email address and ask for theirs in case you need help after you move.
If you are moving with a child, look up where they will go to school. You will need to register your child at a new school.
If you are receiving any benefits from your state (such as cash, food stamps, or healthcare), you will have to re-apply for benefits if you move to a new state. It will be up to the new state to decide what benefits you will receive.
If you have utilities in your name, you will need to tell the utility company you are moving. Utilities include electricity, gas, water, garbage, telephone, cable and internet companies. You will need to transfer your account to the new address or set up new accounts.
If you or a family member has any medical needs, be sure to look up doctors and pharmacies. Transfer any prescriptions.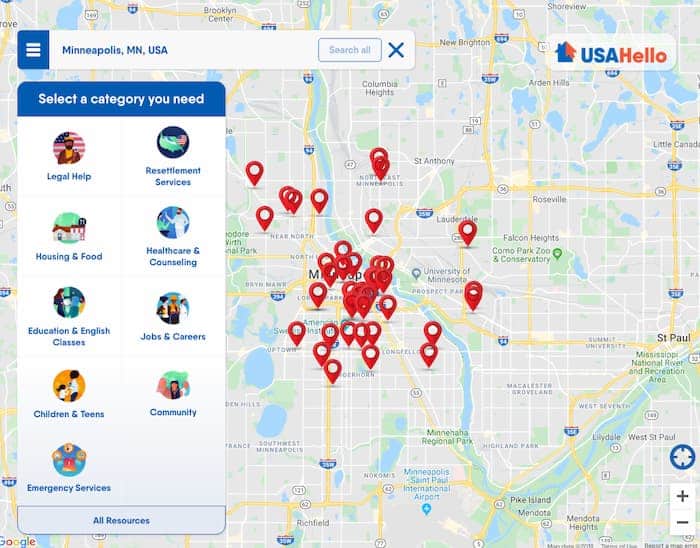 FindHello
FindHello cung cấp nhiều dịch vụ trợ giúp dành cho người nhập cư, người tị nạn, người xin tị nạn chính trị và người nhập cư bất hợp pháp. . Tìm kiếm tư vấn việc làm, luật sư, dịch vụ chăm sóc sức khoẻ , các lớp tiếng Anh và các dịch vụ khác gần nơi bạn.
Bắt đầu tìm kiếm
Tips for moving
Make sure to have a list of expenses.
Research the moving company (if you are going to need one). Learn about insurance and what they will cover in case of damages or lost items.
Pack in advance; don't wait for the last day. Moving could take longer than you expect.
Please don't do it all yourself; ask for help.
Cut costs using donated boxes or reusable bins to transport your belongings.
Make sure you know the moving out regulations of the place you are leaving and the moving in regulations of your new place.