The retail industry and best sales jobs
Learn about the sales industry and different kinds of sales and retail jobs. Read about the best sales jobs and different career paths you can take in sales. Find out what training you need and where to start your job search.
---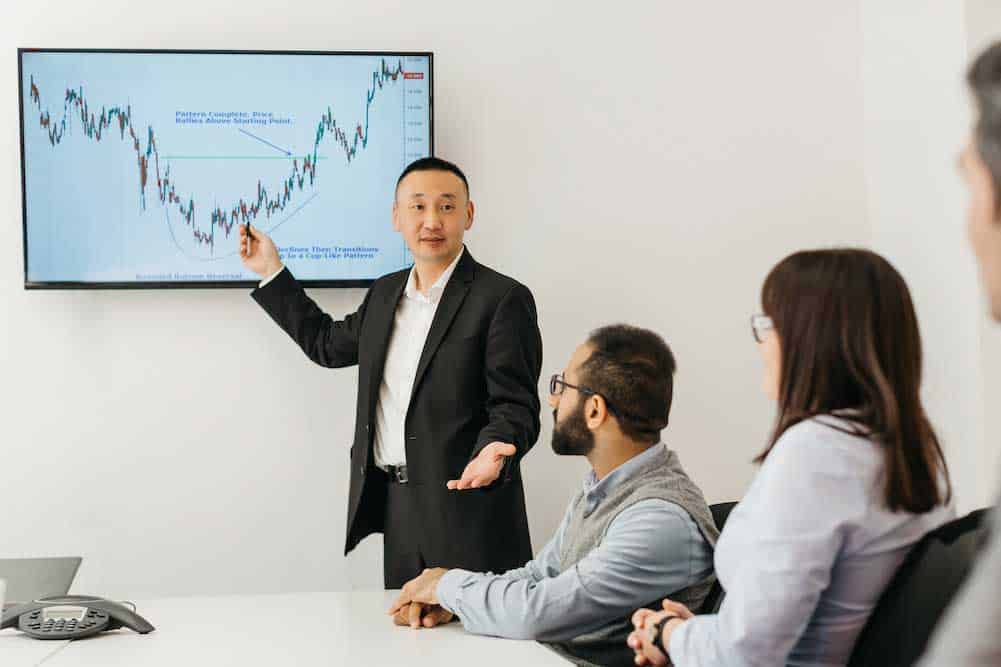 Sales means everything from selling goods in a store to being a representative for a company. The sales industry also offers you a chance to work at home. Sales overlap with many other industries from fashion to healthcare. Sales jobs can be temporary work, but some of the best sales jobs can be a lifelong career.
Sales include retail, which means selling things directly to people. Millions of people work in retail sales. There is always a high demand for retail salespeople, but the jobs are not always well paid. Read government information and statistics about sales occupations.
Sales also include the sales from a maker of things to a seller, such as a store. It could also be a big user, such as a hospital. It also includes selling services and products such as advertising and insurance.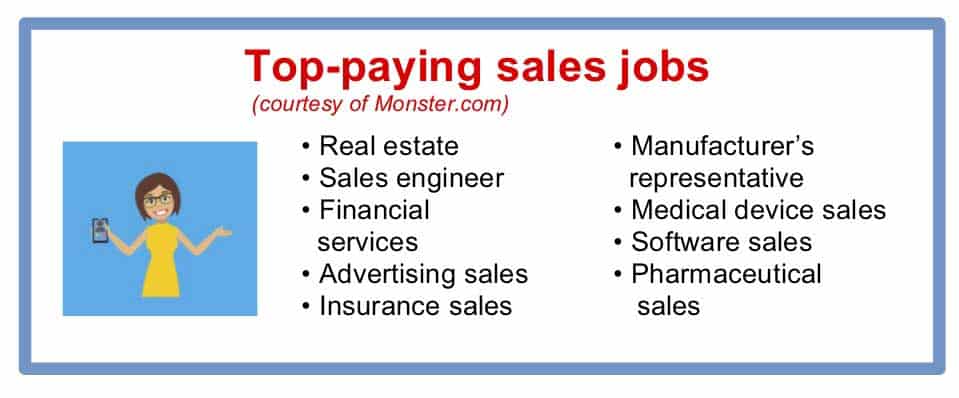 Which sales or retail job?
The sales industry offers many different careers. Here are a few of them:
Sales assistant – working in a store is a good short-term or temporary job with little or no experience needed. There are always positions open.
Cashier – a good job for someone who does not mind repetitive tasks. You need to stand for long periods and keep a friendly attitude to customers.
Telesales – phone sales gives you the flexibility to work at home, but it can be hard to earn a good salary.
Medical sales representative ­– selling medicine and medical equipment is a well-paid but competitive job. This field requires experience and knowledge of healthcare.
Tech sales representative – Microsoft, IBM, Adobe and Salesforce are among many tech companies that offer high-paid sales jobs to skilled salespeople.
Sales manager ­– a sales manager is the leader of a team who makes plans and manages salespeople.
Insurance sales – A good insurance salesperson advises people as much as sells to them. Insurance sales require training and a state license.
Real estate – selling property offers opportunities to make a lot of money, but it is a competitive field. Real estate brokers and salespeople need a state license and a lot of knowledge about the law.
Online sales – selling products online is a good field for someone who wants to go into business for themselves.
Advertising sales – selling advertising to businesses and individuals is a job often done by phone. Much advertising is done online and requires specialist knowledge of search engines and e-commerce.
Are sales jobs the right job for me?
Not everybody has the personality for sales! Sales jobs suit people who are outgoing, polite, and persuasive. Persuasive means that you are good at convincing people. Listening to what customers say will also make you a good salesperson, as you will know what they want.
Sales jobs in retail or phone sales are a good job for people to work around other things in your life. Phone sales allow you to work at home, and retail jobs allow you to work in shifts. Learn more with a retail salesperson career profile from Career Onestop.
Where do I start?
You can get a retail job or phone sales job with no previous experience, but you will need good English language skills for the best sales jobs. For many of these jobs, employers will train you to use their systems.
Skills and training
Some sales jobs require skills and previous experience. Sales managers and sales representatives often have university degrees. This could be a business degree or a degree in sales and marketing.
Another path to sales management is working your way up. You might start as a sales assistant or in phone sales, but you can apply for higher-level jobs within your company once you have some experience and have shown your sales skills.
If you are not sure what sales career you want to try, think about which fields of sales are likely to expand in the future. You may decide to train for one of those jobs


Find a class near you
Many community colleges offer sales and marketing classes. They may have classes especially for newcomers and English learners. Find a community college near you.
What else do I need?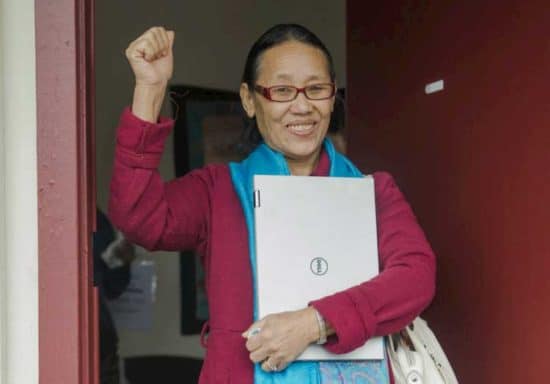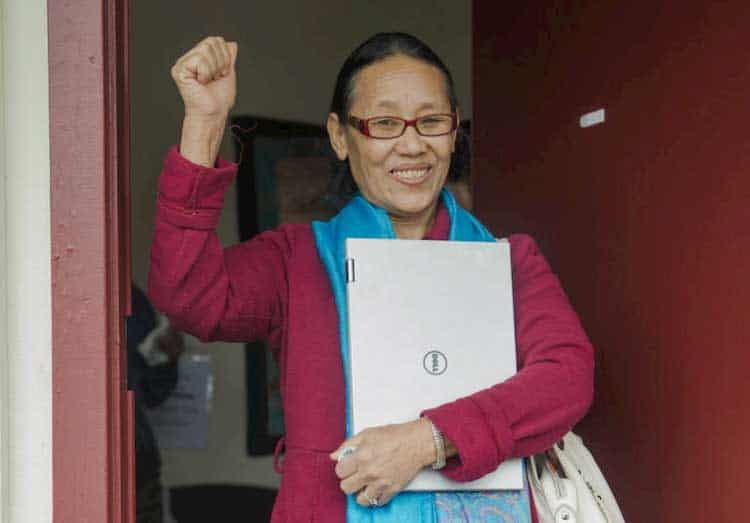 USAHello online classes are open to everyone
USAHello classes are free and are made for refugees and immigrants. Prepare for your GED® test or to become a US citizen.
Learn about our free classes
Start your job search
Use your local jobs center
Government employment centers in every city are free. They offer advice and keep a list of local jobs. They help with resumes and job applications. They can connect you to job training and education. Find your nearest employment center.
Search online
Salesjobs.com is a jobs website specializing in all kinds of sales jobs.
---
Chúng tôi mong muốn cung cấp thông tin dễ hiểu được cập nhật thường xuyên. Thông tin này không phải là tư vấn pháp lý.