Language interpreters and translators are essential to newcomer communities in the USA. If you have good language skills, you can help immigrants and refugees succeed while earning a living. Find out the differences between interpreter and translator, skills needed for these jobs, certifications, and tips to gain experience in this field.
---
What is a language interpreter? What is a translator?
A language interpreter changes spoken words from one language into another language.
A translator changes written information from one language to another language.
There is a great need for interpreters and translators; they help immigrants and refugees to communicate and succeed in the United States.
What can you expect in the job of interpreter or translator?
The duties of a translator are to change documents from one language to another and make sure their translation is accurate. It is also the translator's job to make sure they use clear and precise words in the language they are translating to; this is especially important with complex documents such as legal papers.
The duties of a language interpreter are to convey the words spoken in one language into another language for someone to understand.
In both jobs, an essential duty is to make sure that the meaning of the original speaker or writer is clear; this means it is your duty NOT to add or take away meanings. You can read more about what translators and interpreters do.
Watch a video about the duties of interpreters and translators
Workplace
Interpreters may work anywhere from a school to a refugee camp to a business boardroom. They may need to travel a lot. Translators can usually work at home or in their own office.
Salary for interpreters and translators
Full-time interpreters and translators can earn from $25,000 to more than $83,010 annually. But many work as volunteers.
Some interpreters and translators are paid by the hour, can work part-time, and also as freelancers. A freelancer is a self-employed person who earns wages doing contract work or per hour jobs.
What kind of person makes a good translator or interpreter?
These types of jobs are excellent for someone who wants to help people from their background. For example, you may interpret in a legal hearing or doctor's office. A language interpreter may find themselves in a difficult or sensitive situation. So the right person for the job will be calm and keep a professional manner in all conditions. To be a translator could be a good fit if you like writing and are a clear and grammatical writer.
Qualities you should have
Respect for others.
Truthfulness.
Good concentration.
Good at listening.
Cultural awareness (understanding different perspectives).
Trustworthiness (keeping things private).
Adaptability (ability to work under challenging situations).
Precision (ability to convey small details and difficult points correctly).
Skills you will need
Fluency in at least two languages.
Excellent grammar and writing skills (for translation).
Some knowledge of medical and legal terminology (if you are translating or interpreting for legal clients and medical patients).
Computer skills, especially document formatting (for translators).
Get qualified
Bilingual skills are essential qualifications for an interpreter or translator. You probably already have those. There are other credentials you will need for specific jobs.
Training
A degree in English or your other language will help you get jobs doing translation and interpreting for large organizations. Also, you can take some courses specifically about translating and interpretation. See the American Translators Association list of approved translation and interpretation schools. These courses do not certify you, but they provide you with the skills to be good at your job.
Certification
You will need certification to work as an interpreter or translator in government, in law, or in healthcare.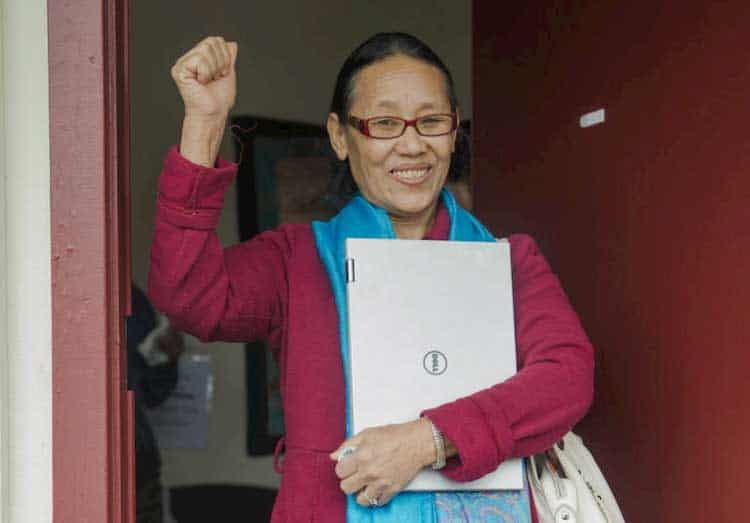 USAHello online classes are open to everyone
USAHello classes are free and are made for refugees and immigrants. Prepare for your GED® test or to become a US citizen.
Learn about our free classes
Experience
Experience is the best training for translators and interpreters. If you live in a neighborhood with many newcomers, you will find many ways to get experience translating and interpreting. You can volunteer wherever you are needed.
Ask your local school if they need help interpreting for parents or translating schoolwork for students.
Your local healthcare center and a hospital may need volunteers to help patients understand instructions and documents.
You can help at newcomer centers and other community organizations.
Offer your services to Tarjimly – an on-demand translation service for refugees.