Teachers and other staff work to help your child succeed in school. Read about the school staff that work with your child.
---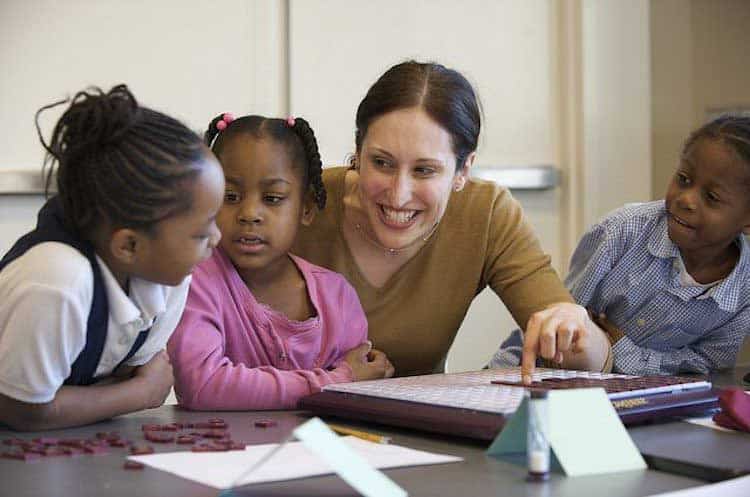 School staff are the people who work at a school. There are teaching staff, and there are other non-teaching workers, too. All school staff members at schools in the USA do important jobs for your child's education.
Teachers
Teachers are the people directly responsible for educating students. They lead learning activities in classrooms. Teachers of younger students teach many topics. For older students, there are teachers for each subject. In the USA, families show respect for school staff by working with the teachers to educate and support their children. Teachers meet families several times per year to talk about their students. This is normal and does not mean that there is a problem with your child.
ESL teachers
ESL stands for English as a second language. Some schools have ESL teachers to help newcomer children who are learning to speak English. ESL teachers usually have special classes a few times a week just for English learners. Or ESL teachers sometimes come into regular classes and help English learners there. Like other teachers, ESL teachers will talk to you about your child's learning.
Aides
In many schools, aides help teachers in their classrooms. Some classrooms have multiple aides and some have none, depending on the needs of students within the classroom. Aides often help a student who has special needs. Aides also help small groups of students complete their work. For example, they may help your child to learn English, like an ESL teacher.
Principal
The principal is the head administrator at a school. The principal is responsible for overseeing all the teachers and other school staff in the school building. The principal is the leader of the teachers. The principal does not teach students. Instead, the principal helps the teachers, helps with discipline, and leads the school. In big schools, there are also vice principals. Vice principals help the principal. In the USA, if a parent has trouble with a teacher, the parent usually talks to the principal.
Counselors
School counselors help students' academic, personal, social, and career development needs. They lead programs that help students succeed in school. Counselors can be very helpful for refugee families. They can help your student adjust to their new school. They might know about special programs for refugee students. Counselors sometimes also help with mental and physical healthcare. A counselor is a good person to talk to at the school if you think your student might need extra help.
Nurses
Nurses work in schools to keep students safe and healthy. If a student is feeling sick, the teacher might send them to the nurse. If the student is sick, the nurse decides to send them home until they feel better. In the US, taking care of students' mental health is an important part of going to school. Sometimes, students have a hard time in class because they are having difficulty adjusting to life in the USA. They might need extra help because coming to the USA from a different country is very hard. Nurses can help support students who are having difficulty adjusting.
Secretaries
The school secretary helps the principal and often works in the front office of the school building. Sometimes secretaries are called front office staff. When you come to your child's school, you may need to sign a paper to check in. This helps keep students safe. The secretary will help you sign in. The secretary can show you where to go. If you need help signing up for school, the secretary helps. Some schools require you to sign a paper to take your child home from school early. The secretary will help you sign your child out. This is to keep your child safe. They can only go home with a trusted adult.
Superintendent
The superintendent leads many principals and schools. Superintendents make decisions on policy, curriculum (what the students learn in classrooms), and district rules. Because superintendents work for many schools, they might not be in the same school building as your child.
---
We aim to offer easy to understand information that is updated regularly. This information is not legal advice.