It is important to go to the doctor for medical help. Learn how to find a doctor near you and how to schedule an appointment. Know what to expect at a doctor's appointment. Get information on what to do in the case of an emergency.
---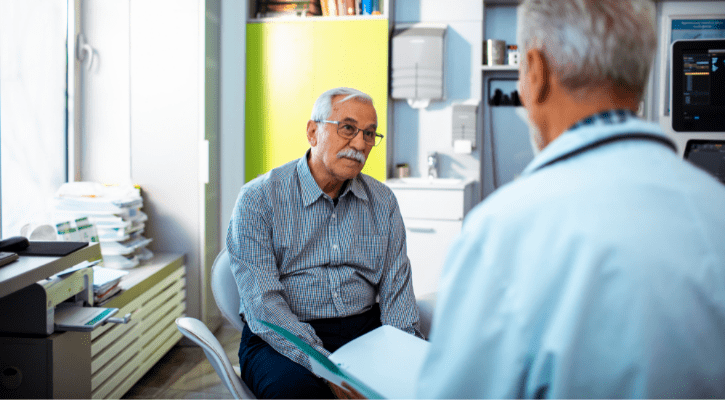 If you or a family member is sick, it is good to see a doctor for help. Regular visits with a doctor can also be beneficial for your overall health.
How do I find a doctor?
If you have health insurance, you can call your health insurance company or go to their website to find a doctor near you. They will let you know which doctors take your health insurance. You can also ask a friend or your resettlement office for a recommendation. Learn more about getting health insurance.
If you do not have health insurance, you can get low-cost health care at a nearby community health center or health clinic. How much you pay depends on your income. Some even offer care for free. Your immigration status should not affect your care. Their care can vary but could include:
Primary health care
Prenatal care for pregnant women
Laboratory testing
Vaccinations
Dental care
Mental health services
Physical therapy
Referrals to specialists
Free or low-cost prescriptions
Ongoing care for chronic conditions

such as diabetes, heart disease, and asthma
Find a community health center or clinic near you.
A primary care doctor (PCP) oversees all your basic medical needs. They provide general care and different healthcare services for common medical problems. You will see your primary care doctor regularly for general check-ups. You can also visit your primary care doctor when you are feeling sick.
Your PCP may be a doctor (physician), a physician's assistant, or a nurse practitioner. Pediatricians are primary care doctors for children but many doctors see patients of all ages. You may see the same PCP for many years.
Examples of when you would see your primary care doctor:
Yearly health check-up
Preventative health screening and tests
Immunizations and vaccinations
Common illnesses, including colds, allergies, flu, ear infections
Chronic conditions, including asthma, high blood pressure, diabetes, heart disease
Referrals to specialists
Your primary care provider may send you to a specialist for certain injuries and illnesses. A specialist is a healthcare provider who focuses on a specific organ or body system or part of the body. For example, a dermatologist helps with problems with your skin. A gastroenterologist cares for the digestive system.
Examples of when you would see a specialist:
Frequent pain and other symptoms
A mole on your skin has changed shape or color
Your child has not started to speak
A referral is a recommendation that you see another healthcare provider such as a specialist. You may need to ask your PCP for a referral before you see a specialist. The specialist might require a referral or your insurance company might require it. It is good to check to make sure your insurance will cover the visit.
How do I make a doctor's appointment?
You can make an appointment by calling the doctor's office and telling them why you need to see a doctor.
If you need help with English, ask for a translator or have someone call for you.

If you prefer to see a woman or man doctor, let them know.

If you are undocumented, ask if they require ID or any other documents.

If you have health insurance, have your health insurance card in front of you.
You may be asked to provide your member ID number.
The doctor's office will offer you an appointment time. You can always ask for other options if the one they offer is not good for you. Sometimes it will take a while for an appointment to be available.
Write down the appointment date, time, and location. Once you have made your appointment, try to keep it. Many doctors have strict cancellation policies. If you do not show up or cancel the appointment too late, you may have to pay a cancellation fee. If you have to cancel, try to do it at least two days before.
What can I expect at a doctor's appointment?
It is important to be on time for your appointment. Some clinics will ask you to arrive 10 to 15 minutes early to fill out forms. Sometimes, you will see more than one medical professional at the appointment, such as a nurse who checks your vitals first. You will be directed to a private room or space to meet with your doctor.
Things to bring to your appointment
Insurance card and payment method
List of medications you take
List of any known allergies
Questions you have for the doctor
Paper and pen if you want to write notes
Family member or friend if you need support
Tips for meeting with your doctor
Take notes. It is helpful to have notes to review later.
Be truthful. Your provider will ask you questions to help understand your health. It is important that you answer these questions honestly and accurately so your doctor can find the best treatment for you.
Ask questions. Don't be embarrassed to ask your doctor to repeat or explain something.
Learn more. Your provider may make a diagnosis to identify a specific illness affecting you. Make sure you understand both the diagnosis and treatment plan.
Make sure you understand the next steps. You may need to get a prescription or a follow-up appointment. Ask the doctor for an appointment summary with any directions.
What if I have an emergency?
It is good to know what to do in an emergency before one happens. Look up where your nearest emergency room is. Learn your options based on the kind of emergency you have.
Call 911
You should only call 911 in an extreme emergency when you don't have time to get other help. You will be connected to a trained medical responder who can tell you what to do. If needed, they can have an ambulance take you or your loved one to the hospital.
Examples of when you should call 911:
Choking
Difficulty breathing
Head injury with passing out, fainting, or confusion
Injury to the neck or spine, particularly if there is loss of feeling or inability to move
Severe burns and cuts
Severe chest pain or pressure
Seizures
Severe allergic reaction (difficulty swallowing or breathing)
Slurred speech, sudden numbness or weakness, sudden dizziness
Bleeding or pain during pregnancy
Go to a hospital emergency room
Most hospitals have an emergency department. This special section of the hospital helps with life-threatening and urgent healthcare needs. Most emergency departments are open 24 hours a day, 7 days a week.
Examples of when you would go to the hospital:
Broken bone
Trouble breathing
Deep wound or cut
Serious burn
Severe pain
Go to urgent care and walk-in clinics
You can go to urgent care and walk-in clinics for medical issues that are not emergencies. These often have evening and weekend hours and provide care without an appointment.
Examples of when you might visit an urgent care office:
Fever
Nausea, vomiting, or diarrhea
Sprained ankle
Some urgent care and walk-in clinics offer free or reduced-cost care for people without health insurance. Call the clinic ahead of time to ask about fees and options for people without insurance.
Know your rights
You have the right to equal treatment. It is against the law for a medical care provider to refuse treatment because of your race, ethnicity, gender, religion, or sexual orientation.
You can ask for a female or male health provider. If you feel more comfortable with a female or male health provider, you can make this request when scheduling your appointment.
You have the right to get a copy of your medical records and keep your health information private.
You have the right to translation services. If you speak a language other than English, you can always ask for an interpreter. Federally funded healthcare clinics are required to offer interpretation services.
Your healthcare provider must get informed consent to start a treatment. Informed consent means a health care provider must explain all benefits and risks of your treatment options and get your permission first.
You have the right to ask for a second opinion.
You do not have to share your immigration status. Healthcare providers do not need to ask you about your status and they are not required to report it either. It is not typically asked but could be to help them understand your situation. It is up to you what you share.
Undocumented immigrants have the right to receive healthcare. Undocumented immigrants can get medical care at a variety of healthcare facilities, including federally qualified health centers (FQHCs), urgent care clinics, public hospitals, and emergency rooms.
Immigration authorities must have a warrant or permission to enter private areas of healthcare facilities. You have the right to remain silent if immigration enforcement asks you questions.
---
The information on this page comes from USA.gov and other trusted sources. We aim to offer easy to understand information that is updated regularly. This information is not legal advice.