Going to the doctor or hospital can cost a lot of money in the USA. That is why it is important to have health insurance. Learn what health insurance is and how to get health insurance. Understand the different kinds of government programs, including Medicaid, CHIP, Medicare, and WIC. Get information for immigrants. Learn about getting health insurance from your job and paying for insurance on your own.
---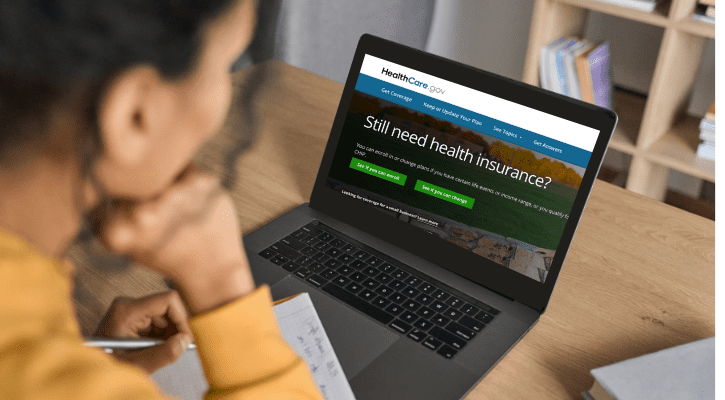 What is health insurance?
Health insurance, or medical insurance, is a contract between you and a health insurer. It requires the health insurer to pay some or all of your health care costs in exchange for a monthly payment you pay to them. The monthly cost of the insurance is called the premium.
When you have insurance and you get a medical expense, the insurance company helps pay for the expense. A medical emergency or surgery can cost many thousands of dollars. It is often better to pay the premium every month than suddenly get a huge bill from a hospital.
The differences in health insurance options are based on age, employment, any health problems you currently have, how much you can pay for the monthly premium, and if you get it from your employer or you get it on your own.
Having health insurance can be referred to as being covered or being insured. They both mean you are protected from having to pay large medical bills.
How do I get health insurance?
In the United States, you can get health insurance through:
Government health insurance programs
Government health insurance programs offer help to people who can't afford health insurance or who meet certain requirements to be eligible. Being eligible for something means you can get something or qualify for something.
Medicaid
Medicaid is a public health program run by the state you live in. The program provides insurance to elderly and disabled individuals, children, pregnant women, and families that are low-income. Some refugee families will get Medicaid when they first arrive in the United States.
Who is eligible?
The eligibility for Medicaid varies by state. Learn more about Medicaid.
CHIP
The Children's Health Insurance Program (CHIP) provides low-cost health coverage to children in families that earn too much money to qualify for Medicaid. In some states, CHIP covers pregnant women. CHIP is a good program because it pays for your children's doctor appointments and medical care. It is important to take your child to the doctor for yearly check-ups and immunizations.
Who is eligible?
The eligibility for CHIP varies by state. Search for your state's CHIP program.
Medicaid and CHIP for immigrants
Immigrants who are "qualified non-citizens" are generally eligible for coverage through Medicaid and CHIP, if they meet their state's income and residency rules. Undocumented immigrants are not eligible.
in order to get Medicaid and CHIP coverage, many LPRs or green card holders have to wait 5 years after receiving their qualified immigration status before they can get coverage. There are exceptions. Refugees and asylees don't have to wait 5 years.
Qualified non-citizens include:
Lawful Permanent Residents (LPR/Green Card Holder)
Asylees
Refugees
Cuban/Haitian entrants
Paroled into the U.S. for at least one year
Battered non-citizens, spouses, children, or parents
Victims of trafficking and his or her spouse, child, sibling, or parent or individuals with a pending application for a victim of trafficking visa
If you are undocumented but your children are U.S. citizens, they may be eligible for Medicaid and CHIP.
The government is not allowed to require applicants to give information about the immigration status of any family or household members who are not applying for coverage. States can't deny benefits to an applicant because a family or household member does not give the information.
Learn more about government health coverage for immigrants.
Medicaid and CHIP are not considered a public charge in immigration petitions, unless it is Medicaid used for long-term institutionalization. Learn more about the public charge rule.
Medicare
Medicare is a public health program run by the U.S. government. Medicare offers a plan to assist with the costs of prescription drugs. Learn more about Medicare.
Who is eligible?
Medicare insurance is available to all adults age 65 and older and to disabled citizens of all ages.
WIC
Women, Infants, and Children (WIC) is a state-by-state managed healthcare program that specifically helps children younger than five years of age, pregnant women, and breastfeeding mothers. The program focuses on nutrition, food supply, and improving access to healthcare and social welfare services. If you are low-income and have a baby, this is a good program. Learn more about WIC.
Who is eligible?
A woman or child with any immigration status, including undocumented, can be in the WIC program.
Private health insurance
Many Americans have private insurance and do not use public programs. This is because companies often pay for private health insurance for their workers. If you do not have an employer offering health coverage, and if you are not eligible for a government program, you will have to buy private health insurance.
Workplace health insurance
When you look for a job, you should try to find a job that offers health insurance. This will help your family. The employer pays most of the cost and the employee pays a small amount. For an extra amount, employees can usually choose to include their husband or wife and any children they have on the same insurance plan.
If you leave your job, you may be allowed to keep your insurance coverage for a while, through a government plan called COBRA. COBRA is only for a short period, and you may have to pay the whole premium yourself, but it will keep you covered between jobs.
Health Insurance (ACA) Marketplace
The health insurance marketplace is a program offered by the U.S. government. It is a place where people in the United States can buy private health insurance for themselves and their families. It was created by the Affordable Care Act (also known as Obamacare). It requires most U.S. citizens and legal residents to have health insurance. It looks at how much money you make to decide how much you can pay for insurance. You can search for insurance online or in-person.
Who is eligible?
U.S. citizens and lawfully present immigrants can use the marketplace. Undocumented immigrants are not eligible. Non-citizens must have:
Humanitarian statuses or circumstances (including Temporary Protected Status, asylum applicants, Convention Against Torture, victims of trafficking)
Valid non-immigrant visas
Legal status through other laws (temporary resident status, LIFE Act, Family Unity individuals)
You do not have to use the ACA Marketplace to look for private health insurance. You can also contact health insurance companies directly.
College medical insurance plans
Students are often able to purchase healthcare insurance through their colleges. To be eligible you must be enrolled in a certain number of credits. College students can talk to their college or university about what options they have.
Find help near you
FindHello is an app you can use to look for help near you. It shows a map and list of services for immigrants, refugees, asylum seekers, and undocumented people in the USA. Search for legal help, English classes, healthcare, housing support, and more.
Start your search