From sunshine to snow: how I found happiness in America
Refugees often have to come to the USA on short notice.
They may experience culture shock while they adjust. So how can they find found happiness in America?
I came into the United States in January 1995, where it was winter in Milwaukee, Wisconsin. So many things surprised me when I first arrived.
The weather really surprised me because it was not what I was used to. Many refugees from Somalia were staying in Kenya refugee camps. I came from Utange camp near Mombasa. The weather over there was hot and humid and that was the climate I was used to. My surprise was I was not equipped with this weather. When I arrived I was still wearing the dress shoes I was wearing and also a sundress.
Of course, I didn't have boots or a heavy jacket. I didn't have any winter clothes.
Another thing that surprised me was time. I didn't know how to tell time or what time it was at home. I was a little confused about telling time, so prayer time was difficult to tell. As Muslims, we must pray five times a day.
Also, I will add water. Water from the tap was very cold. A lot of us didn't feel thirsty and that was a strange thing. It's not strange right now, but at that time it was unusual.
But though these things surprised me, they weren't the hard things.
The hard things were the culture, the language, the isolation, and transportation.
The thing that was hard for me – it was a new culture. My family and I didn't learn a lot about the culture before coming to the U.S. I think it was my parents who attended some orientation to learn about the culture in the U.S.
My English was not very good as I didn't learn much in Africa. The last grade that I completed before coming to the U.S. was 8th grade. My parents were illiterate. That was very difficult for all of us. The two languages I spoke were Swahili and Somali. I did attend private English classes in the camp which helped me a little.
Another thing that was hard me was my family was being isolated. No neighbors or relatives or friends to talk to during the day.
We didn't have a lot of support from family that was over here because everyone works and goes to school. No one sees each other at all. Weeks pass by or months and years.
Also, transportation was hard because we didn't know the bus transits and how to catch the bus let alone to walk outside. It was scary to even go outside and walk by yourself. The streets were or neighborhoods were super quiet, which was different than at home. Sometimes dogs bark at you if you go to the store or walk by foot or if they get scared by cars driving by. Another hard thing was getting groceries by foot. We did that a lot, especially during the winter.
I did miss Africa a little but we needed to get out of there due to safety, food, health, and our life.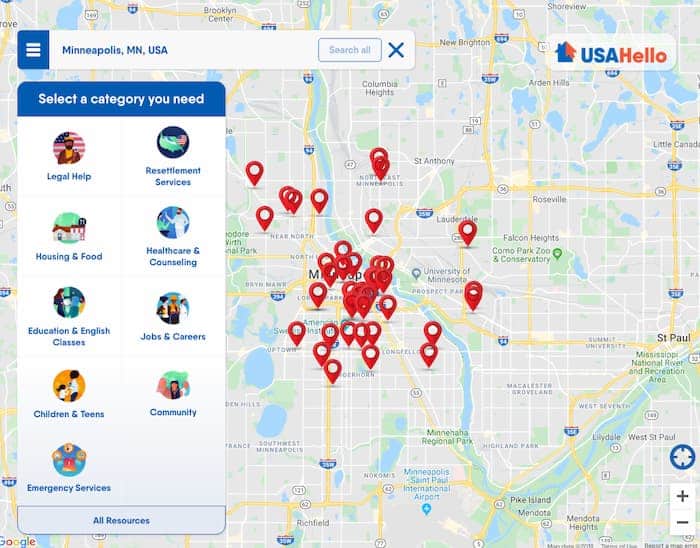 FindHello
Use FindHello to search for help and resources near you. Search for job advice, lawyers, healthcare, English classes and other services in your community.
Start your search
But we slowly found happiness in America.
When we were told that we were going to the USA, we were already happy to know that we were leaving to a safe place and better future. We did leave Somalia due to war, poverty, and injustice. Already, we were fleeing two to three years before we saw a safe place.
The first things that made me happy was the country itself and the structures and the houses and cars. Just coming from the airport to our house on the way, I was checking out the places and houses and it was nice. Everything was so beautiful.
I went to school right away, and that made me feel very special. The kids liked me at school and give me many compliments about my dress and hair. They always say hello and smile at me. Everyone was very friendly and I was a happy person. I smiled a lot too.
I was the only Somali African girl in the whole school. So that was very special and scary too.
The school was a few blocks from my house and where we were living so I was very happy and comfortable with going to school. My siblings also went there so I had family and support.
So in conclusion: the first month in the US had many things that made me scared, and many things that were hard. But I had found happiness in America because I found two other really important things: safety and school.