Afghan status categories | Humanitarian parole | SIV | Re-parole |
Asylum | Refugee | Temporary Protected Status | Find help | Benefits |
Help for those outside U.S. |
Updated May 9, 2023
---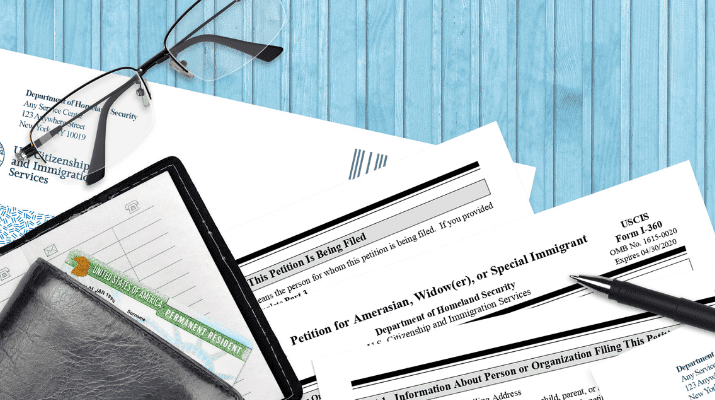 Afghan Status Categories
Afghan nationals in the U.S. have different immigration legal statuses. It is likely that you will need to file additional legal paperwork to get permanent legal status in the USA.
You can apply for more than one immigration status at the same time. Filing an application for asylum or TPS at the same time as your SIV application will not slow down the process.
Humanitarian parolee eligible for Special Immigrant Visa (SIV)
If you are a humanitarian parolee with an OAR stamp but did not have an approved I-360 when entering the USA, your status is temporary. It lasts 2 years. If your parole ends before you adjust your status, you may be eligible to apply for re-parole. You will still need to take further action to stay in the USA permanently.
You can apply for an SIV if you were employed by the U.S. government, a U.S. contractor, or ISAF in Afghanistan for at least one year.
You need to submit a Petition for Special Immigrant Visa with Form DS-157 with your documents for Chief of Mission (COM) approval.
Once you have both a signed DS-157 and COM approval, you can apply for a green card. New SIV applicants no longer need to file Form I-360.
You will need to provide:
Verification of employment
Recommendation letter from supervisor
Proof you worked for eligible company
Proof of Afghan nationality
Biographic data
If you applied before July 20, 2022, you will follow the instructions below.
You are now ready to apply for a Special Immigrant Visa (SIV) with Form I-360. There is no fee to apply.
You must wait for approval before you can apply for a green card. You will be emailed the decision.
To check the status of your I-360 you can email:
[email protected]

If you did not include your spouse or child on your original application, you can add them now.
Special Immigrant Visa (SIV) holder with SI/SQ stamp
Once you have an approved I-360 SIV, you can apply for a green card with Form I-485. There is no fee to apply. Afghans with an SIV will receive quicker processing times. It will take an estimated 6 months.
Humanitarian parolee not eligible for the SIV program
If you are a humanitarian parolee with an OAR stamp, your status is temporary. It lasts 2 years. Starting in June, you can apply for re-parole to temporarily extend your protection while you apply for a different status.
If you do not meet the requirements for the SIV program you must be approved for a different status before you can get a green card. For many Afghans in this situation, the best option may be to apply for asylum.
Re-parole process
Starting in June, if you have humanitarian parole through Operation Allies Welcome (OAW) you will be able to request to re-parole when your parole expires. These requests are considered on a case-by-case basis. If your request is accepted you can continue to live and work legally in the USA for an additional 2 years. You will also still be eligible for ORR services.
We will update this page with more information when it starts in June. In the meantime, it is recommended to create a myUSCIS account if you have not already. This gives you the option to apply online.
Learn if you should apply for re-parole and how to prepare.
C
Asylum
If you were forced to leave Afghanistan to escape persecution and you do not have SIV or refugee status, you may be eligible for asylum. Applying for asylum is a long process.
You typically must file your application within one year of arrival in the USA. You may be eligible for an exemption to the one-year deadline if you apply before your parole expires.
Learn how to apply for asylum.
Once you are approved for asylum you will be eligible for certain benefits. You can apply for your green card one year after your asylum case is approved.
Refugee
If you entered the U.S. as a refugee, you can apply for your green card one year after arrival. Your resettlement agency can help you find legal help to complete this application.
Temporary Protected Status (TPS)
Temporary Protected Status (TPS) allows you to stay in the U.S. temporarily. You can have TPS along with another status. If you only have TPS, you are not eligible to apply for a green card.
Learn how to apply for TPS Afghanistan.
If you change your address you must notify USCIS within 10 days, even if you are moving to a temporary location. Use the USCIS Change of Address form.
Help for Afghans in the U.S.
The Virtual Resettlement Line (VRL) is a resource for any Afghan who is not yet connected to a resettlement agency or who is struggling to get benefits or resources. You can call 212-551-3010 or email [email protected] to connect with Dari and Pashto speaking staff.
USCIS also has Afghan Support Centers in different cities to help you understand your options and apply for direct services.
Legal help is also offered by Project Afghan Legal Assistance (PALA) and Immigration Legal Services for Afghan Arrivals (ILSAA).
Benefits for Afghans in the U.S.
If you have refugee, asylee, SIV, or parolee status you can get benefits that help you get settled in your new community. These benefits are not offered to TPS holders. These benefits include:
Reunite with family
You can apply for your spouse and unmarried children under 21 to come to the USA. Learn more. There is no fee to apply.
Basic needs support
When you first arrive, you can get help with housing, food, adjusting to U.S. culture, and other basic needs. For the first 30-90 days, this is provided by refugee resettlement agencies through the Reception & Placement Services (R&P) or Afghan Parolee Assistance Program (APA).
These services may be provided by a resettlement agency or by volunteers from the community.
Social services
The Office of Refugee Resettlement (ORR) provides ongoing help with jobs, case management, and other services such as English as a Second Language (ESL) classes provided by refugee resettlement offices and community-based organizations (NGOs).
The types of long-term services provided may be different from one place to another. Some offices have special services for youth, women, and older refugees.
Public cash assistance
You may receive cash assistance when you first arrive. The amount that you receive and the length of time you can receive it will depend on your family size, age, and the place where you live. Once you get a job, the amount can go down or stop.

Public cash programs include:
ORR Refugee Cash Assistance (for adults without children)
Temporary Assistance for Needy Families (TANF) for families with children
Supplemental Security Income program for the elderly, blind, or disabled.
Learn more about managing money in the USA.
Healthcare and medical insurance
In the USA, most people use medical insurance to help pay for healthcare. The type of insurance you can get will be different depending on the state you live in and your circumstances. Afghans may also have government help with healthcare.
Any person can access care through a community health clinic.
If you are feeling sad or depressed, learn how to find mental health help.
Monthly food assistance
The Supplemental Nutritional Assistance Program (SNAP) is a government program that helps you pay for food when you do not have enough money. A refugee resettlement office can help you apply for this program.

You will receive a card that is like a debit card to use at the grocery store. The amount of money you receive will depend on what state you are in and how many people are in your family. Once you start working the amount may go down or stop.
Help for families with children
If you have children, you might be able to get help to pay for childcare while you are working.

You are also able to get support for young children including preschool, home visits, and food assistance provided through:
Head Start
Maternal, Infant, and Early Childhood Home Visiting Program
Special Supplemental Nutrition Program for Women, Infants, and Children (WIC)
Help with jobs
There are programs to help you find a job, prepare a resume, and access other services like English classes or job training programs. You can get help through your resettlement office or local programs through the department of workforce services.
Learn about getting your work permit and how to register for work opportunities.
Housing assistance
If you have a low income, you might be able to get help from the government to pay for housing through HUD Public Housing and Section 8 housing assistance programs. These programs can have long waitlists and are different in each location.
Learn more about finding housing.
It is important to know that the resettlement of Afghans is a large-scale evacuation effort. The services may be different from one place to another within the USA.
---
Information for this page comes from the IRAP U.S. Special Immigrant Visa Program, CLINIC, Migration Policy Institute (MPI), and Switchboard TA. Special thanks to our friends at CWS for their legal review for Afghan status.
This page is intended for informational purposes only. USAHello does not give legal advice, nor are any of our materials intended to be taken as legal advice.