Are you looking for a job? First, you need to know where to look for a job. Learn how to find job opportunities in your neighborhood and online, sign up at an employment center, and where to learn computer skills. On this page, you'll discover how to network and understand a job description and find a job when you have no experience.
---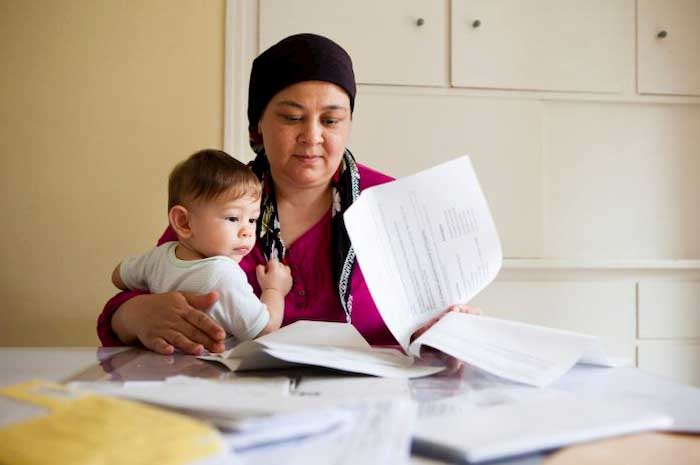 There are many ways to look for jobs. You can use one or all of these ways to look. Finding a job could take time, don't get discouraged if you are not hired immediately or if you are not the candidate after many interviews. Remain positive and keep looking for the opportunity that will be right for you. Expand your chances by applying to more than one job at a time.
Look for job opportunities in your neighborhood
You can walk around your neighborhood and look in the windows of the businesses near you for signs that say "Help Wanted;" this means they are looking for employees. Go inside, introduce yourself and ask about the job offers available.
Local newspapers and local websites could be a good starting point if you are looking for a job. You will find positions from smaller businesses or local companies in your neighborhood, town, or city on these types of publications.
Sign up at an employment center
Find your nearest employment center. All cities have employment centers that help you search for work. If you are a refugee, your resettlement agency also will help you look for your first job. If they assisted in finding your first job, you could tell them you are looking for a new job. They may be able to help you again.
When you go to an employment center, be prepared with your resume or at least a list of your professional experiences, dates of employment, and education information. They might ask you for this information to register you in their system.
Search for job opportunities online
The advantage of looking online for work is that you can be specific with your job search. You can look for the exact kind of jobs and career opportunities you want. Research the position, location, and hours that are best for you. If you don't have a computer, you can use free computers at the public library.
There are millions of jobs online and many websites that could help you in your job search. Most employers publish their career opportunities online. Some websites even provide information about compensation, culture, and benefits from particular companies, so you can build an idea of the place you want to work. Some of the most popular job search websites are Upwork, Glassdoor, LinkedIn, Indeed, SimplyHired, ZipRecruiter, USJobs, and many others. All of these job search websites have the option for you to sign up for job alerts. If you enter your email address, you will receive updates when jobs become available in your area of interest. Most of these websites will require you to build an online resume before applying to any open position.
Learn how to make a LinkedIn profile that will help you with job opportunities.
Learning computer skills
Looking online for work can be difficult for people new to using computers.
You can learn basic computer skills.  Universities, community colleges, high schools, churches, and your local library usually offer affordable computer classes for adults and seniors. You can search FindHello for computer classes near you.
Find help near you
FindHello is an app you can use to look for help near you. It shows a map and list of services for immigrants, refugees, asylum seekers, and undocumented people in the USA. Search for legal help, English classes, healthcare, housing support, and more.
Start your search
Networking
Maybe you've heard this popular word before, networking. It means to go to your friends, family, neighbors, and community to find opportunities, build relationships and create a big support system to help you succeed professionally.
Many people have found success in their job search after mentioning it to the people they know because they can introduce you to your future employer.
Some people are very good at networking, meeting people, and building a professional network; for others, it takes more effort.
Here are some tips to network:
Use social media. It is easier to connect with others using a simple message, responding to a comment, or asking for help.
Go to job fairs and professional groups. You'll have the opportunity to meet new people, possible employers, and future colleagues.
Meet new people through friends or neighbors. When you are known by someone or referred by someone, it makes for a more straightforward introduction and a more welcoming interaction.
Ask for reviews. If you know someone who could review your resume or an application, ask for advice and feedback. It is a great way to improve your opportunities of getting hired and establishing a relationship.
Learn resume tips for getting hired
Understanding a job description
As you look for job opportunities, you will need to understand the job descriptions. To know if you are a good fit for the job, you will want to find the qualifications for the position.
Look for words and phrases such as minimum, must be, must have, must be able to, needed, necessary, required, requirements, and at least this will help you find what skills, experience, and education are required to get the job.
You must have a good understanding of the qualifications for the job. You should make sure you have the qualifications before applying. If you can show that you understand and have the qualifications for the position, you will have an excellent chance to get an interview and get the job.
How can I find a job if I have no experience?
You can have no professional experience and still get a job. You'll have to be transparent and emphasize previous education or life experiences to make you a good candidate. Some employers put a lot of emphasis on hiring people with 'soft skills.' These are your abilities to communicate, to manage time, to work well with others, your creativity, and your leadership.
Network and apply for the job you'd like to get, don't disqualify yourself before applying. You can also go back to school to study for a new career or update what you learned before.