Asking for asylum | Title 42 | Expedited removal | Credible fear interview | Find help |
Updated January 17, 2023
---
Asylum is a form of protection that allows you to stay in the USA if you have been persecuted or fear persecution in your home country because of your race, religion, nationality, membership in a particular social group, or political opinion.
Persecution can be severe harm or threats of harm to:
you
your family
people similar to you
It includes:
torture
forced medical treatment
unlawful detention or punishment
Rape or sexual abuse
severe economic harm
extortion and robbery
severe discrimination and harassment
threats of serious harm
It is legal to seek asylum at the U.S. Mexico border
International and U.S. law gives everyone the right to request asylum in the USA and at the U.S. Mexico border. It is your legal right even though policies like Title 42 and MPP have made it harder.
You can make an appointment through the CBP one app. This is for anyone seeking a humanitarian exception to Title 42 and does not have documents to enter the USA. You must currently be in Central and Northwest Mexico. It gives you an opportunity to present your information at a participating point of entry at the border. An appointment does not guarantee entry.
If you do not make an appointment and try to cross the border without proper documents, you risk being apprehended by Border Patrol and put into expedited removal. Tell them you fear returning to your country and want to apply for asylum. You could be put in a detention center while you make your credible fear case.
Learn more about how to apply for asylum.
The Supreme Court has ruled that Title 42 will remain in effect. It allows the U.S. government to close the border to certain travel because of the Covid-19 pandemic. It is a public health law.
Migration Protection Protocols (MPP) ended on August 8, 2022. Under MPP, the U.S. returned asylum seekers at the border to wait for their asylum hearing in Mexico.
You cannot seek asylum at the U.S.-Canada border if you passed through Canada first unless you meet an exception. This is called the Safe Third Country rule.
You will not have a credible fear interview if you show up at a port of entry. You will be turned away and asked to apply for asylum in Canada. If you are denied asylum status in Canada, you cannot apply for asylum in the USA.
The rule does not apply if you enter the U.S. through an airport, seaport, or unofficial point of entry. If you are already within the USA, you can apply for asylum.
Cubans, Haitians, Nicaraguans, and Venezuelans may now be eligible for a temporary program to come to the USA. If you are trying to enter the USA and cross Panama, Mexico, or the U.S. border you will not be allowed to apply. Learn more.
Expedited removal
Expedited removal allows immigration officers to quickly decide if a person should be deported without appearing before a judge. DHS is increasing the use of expedited removal of people who cannot be processed due to Title 42.
You can be placed in expedited removal proceedings if you entered the U.S. without a valid entry document (visa, border crossing card, or passport) or with false entry documents. You will be sent back to Mexico or your home country and banned from entering the U.S. for 5 years.
Expedited removal is not allowed for unaccompanied children.
If you say that you want to apply for asylum or fear persecution, you have the right to a credible fear interview. You should not be removed from the U.S. until an asylum officer decides whether you have a credible fear and can apply for asylum. Some people are still removed without an interview even though this is a right. Find help.
Credible fear
Credible fear means there is good reason to believe your fear of persecution. An asylum officer will give a credible fear interview to learn more about your fear of returning. You may remain in a detention center or be released with surveillance while you wait.
The credible fear screening will happen over the phone or in person. An asylum officer will ask you four questions. Your answers will help them decide if your claim is strong enough to go forward with an asylum interview or immigration hearing.
They might ask:
Why did you leave your home or country of last residence?
Do you have any fear or concern about being returned to your home country or being removed from the U.S.?
Would you be harmed if you are returned to your home country or country of last residence?
Do you have any questions or is there anything else you would like to add?
Be honest and explain all the important details.
Keep good notes. Write down key dates to make sure you tell your case correctly each time. If you change a part of your story accidentally, it could negatively affect your case.
Seek legal advice. Immigration officials will give you a list of free or low-cost legal service providers that can help you prepare for your credible fear interview.
Customs and Border Protection (CBP) may detain you until you have your credible fear interview. In most cases, you will have to wait days or weeks in detention for your credible fear interview.
If the asylum officer decides you have a credible fear they will either:
If the asylum officer decides you do not have a credible fear, you can ask an immigration judge to review their decision in a hearing.
If the judge disagrees with the asylum officer, you will be able to make your case in an immigration court hearing.
If the immigration judge agrees with the asylum officer, ICE will remove you from the United States.
If you do not ask for a review, ICE will remove you from U.S.
Find help
The asylum process is very complicated. It is important to review your options for legal help. Many organizations and lawyers offer free or low-cost legal services and support. Some are listed below.
You have a better chance of getting asylum with the help of an immigration attorney or accredited legal representative. They can help you complete your application and prepare for your interview or hearing.
Who

Offers

Contact

Free membership with legal help and information.

Help to find services near you.

800-375-1433

Help for those detained in Arizona.

602-307-1008
1845# from a detention facility phone

Search for legal help by detention facility.

Help for those who have been detained.

209-757-3733
9233# from a detention facility phone

Help if you have been separated from a child or family.

Help if you have been sexually assaulted in a detention facility or elsewhere.

800-656-4673

Help if you have been separated from a child or family. Available 24 hours a day.

Help for refugees and asylum-seekers detained in the U.S.

202-461-2356
#566 from a detention facility phone

Get updates about your case.

800-898-7180

Get information on family members and your case. Report problems while in detention such as sexual or physical abuse.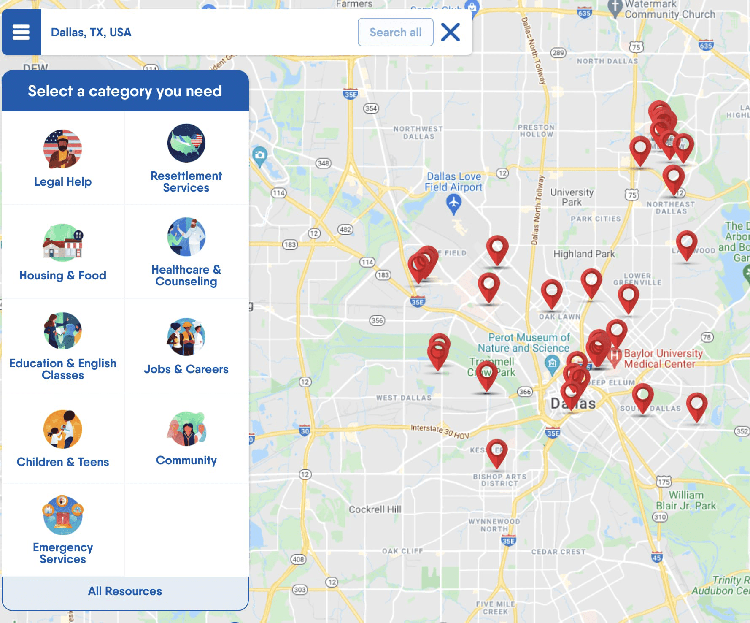 Find help near you
Find legal help, English classes, healthcare, housing support, and more. Search with a map and list of services for immigrants in the USA.
Start your search
Other state organizations that are helping people at the border include:

Arizona
Catholic Community Services / Casa Alitas
California
Galilee Center
JFS
Mexico and California
Al Atro Lado
Border Angels
New Mexico
Lutheran Family Services
Texas
Annunication House
Good Neighbor Settlement House
Interfaith Welcome Collective
---
The information on this page comes from the Department of Homeland Security, non-profit organizations working at the border, and other trusted sources. It is intended for guidance and is updated as often as possible.
USAHello does not give legal advice, nor are any of our materials intended to be taken as legal advice.