Family reunification | Follow-to-join petition | P-3 program | Legal help 
---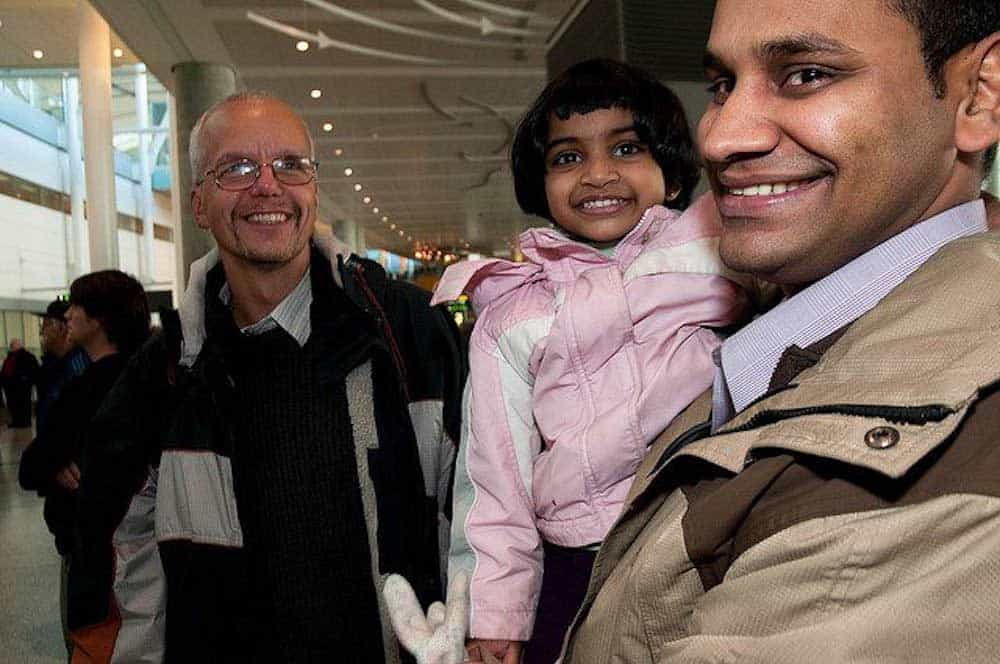 This page offers information specifically for people with refugee or asylee status. If you have a different immigration status, learn more about family immigration.
How does family reunification work?
The United States has a family reunification program that allows refugees, asylees, and asylum seekers to petition for their family members to join them in the USA.
You can petition to bring only immediate family members to the USA. Immediate family members include:
Parents
Spouses
Unmarried children under 21
Siblings, cousins, aunts or uncles, and grandparents do not qualify under this family reunification program.
Benefits of family reunification
Family members who are approved for family reunification through the I-730 petition, AOR petition, and P-3 are considered refugees or asylees. They are eligible for the same services and benefits.
There are two ways refugees and asylees can apply for family reunification.
Petitioner: the person who files an application asking for their family member to get a green card.
Beneficiary: the family member for whom the petitioner has filed the application.
1. Follow-to-Join (FTJ-A) petitions
Refugees and asylees in the U.S. can file follow-to-join petitions to bring certain family members to the USA.
Who can apply 

Refugees and asylees 

Family members

Spouse and unmarried children (under 21 at the time you were granted refugee or asylee status) 

How to apply

File

Form I-730 Refugee/Asylee Relative Petition

with the USCIS Service Center in Nebraska or Texas depending on the state you live in. 

File supporting documents. These include proof of refugee/asylee status, photos of family members, and evidence of familial relationships.  

Deadline

You must apply for family reunification within 2 years of being granted refugee or asylee status. USCIS may waive the 2-year filing deadline in some cases for humanitarian reasons.

Fees

There are no fees to file Form I-730.

Processing time

Currently, USCIS is taking an average of

11-25 months

to process I-730 petitions. Each case is different and may take more or less time to complete. You can track the status of your application

online

.

Interview

USCIS Service Centers review Form I-730 petitions followed by the Refugee, Asylum and International Operations Directorate (RAIO). If USCIS finds your relative (beneficiary) is eligible for family reunification, they will schedule an interview with your family member.  

If your family member (beneficiary) is in the United States, they will be interviewed at your local USCIS field office. If they are outside the U.S., they will be interviewed at a USCIS international field office or U.S. embassy or consulate.  

The USCIS officer will review the beneficiary's application and make a decision on whether they are qualified to travel to the U.S. 

Decision

If the beneficiary is found eligible to travel to the U.S., the officer will approve their application. 
2. Priority Direct Access (P-3) program
The U.S. Refugee Admissions Program (USRAP) selects refugees for resettlement based on three priority groups. The P-3 program allows certain family members of refugees and asylees in the U.S. to join their family members in the U.S.
The UNHCR does not typically refer refugees and asylees for resettlement through the P-3 program if they can reunite with their family members under the FTJ-A petition.
Who can apply 

Refugees and asylees 

Family members

Parents, spouses, and unmarried children under the age of 21. In some cases, family members may qualify based on humanitarian reasons. 

Requirements

Applicants must be members of nationalities designated by USRAP. Countries with P-3 status include Afghanistan, Burma, Burundi, Colombia, Congo (Brazzaville), Cuba, North Korea, Democratic Republic of Congo (DRC), Eritrea, Ethiopia, Haiti, Iran, Iraq, Rwanda, Somalia, Sudan, Uzbekistan.

How to apply

File an Affidavit of Relationship (AOR) with a Resettlement Support Center (RSC). An AOR is a legal document that proves the familial relationship between a former refugee or asylee living in the U.S. and their relative overseas.  

The beneficiary may have to submit to DNA testing to verify their relationship during the verification process. 

Deadline

Relatives are encouraged to file an AOR as soon as possible due to long processing times. You must file an AOR within 5 years of your arrival.

Fees

There are no fees to file an AOR. You may have to pay for DNA testing if required. 

Processing time

Processing times differ for each case and depend on the location and time it takes to conduct interviews overseas. It takes approximately 2 years for eligible family members to arrive in the U.S. through the AOR process.

Interview

The Resettlement Support Center (RSC) will review your resettlement application and refer you to USCIS for an interview. The RSC will also share the date of the scheduled interview with the resettlement agency where the anchor relative filled the AOR.

Decision

If the officer confirms that you are eligible to resettle in the U.S., they will approve your application. 
You can file both an I-730 and an AOR at the same time. If your relative is living overseas and receives a decision on one application before the other, you should USCIS and the refugee resettlement agency involved in your case.
What happens after my family is approved for family reunification?
Refugee beneficiaries will have to go through post-approval processing. Refugees must go through medical and security checks. The International Organization for Migration (IOM) will arrange medical screenings and travel plans. A resettlement agency will make arrangements to welcome and offer resettlement support in the United States.
Asylee beneficiaries will have to make their own travel arrangements. After arrival, resettlement agencies will help refugees and asylees apply for benefits and services in their state.
How can I get help with my application?
Refugee resettlement agencies and immigration lawyers can help you review and understand your options for family reunification. Many organizations and lawyers offer free or low-cost legal services. You are encouraged to get help completing your application and preparing for your interview.
---
The information on this page comes from the UNHCR, USCIS, CLINIC, and other trusted sources. It is intended for guidance and is updated as often as possible. USAHello does not give legal advice, nor are any of our materials intended to be taken as legal advice.