Tips to avoid common immigration scams
This page is also translated in:
Immigration scams are very common and take many forms. You must know how to protect yourself. Get tips on how to identify, avoid, and report scams.
---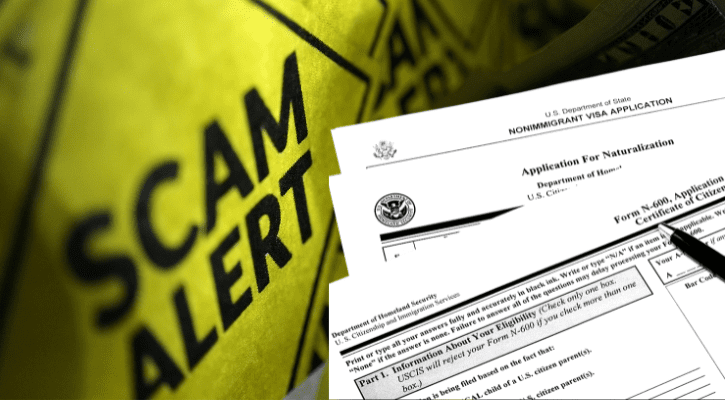 What is a scam
A scam or fraud is when someone lies to steal your personal information or money. It is illegal. Unfortunately, scams and fraud are common.
Many scams also give false information about immigration benefits. If you are unsure about specific procedures, contact your local immigration office or legal service provider.
Payments
Most scams ask for payments for immigration fees. Immigration fees and applications are handled through U.S. Citizenship and Immigration Services (USCIS), the U.S. Department of State (DOS), and the Executive Office for Immigration Review (EOIR).
USCIS will only accept payments online through your myUSCIS account or by mail through their official lockbox locations. When you are completing an application online, you will be directed to pay the fees at pay.gov.
USCIS will never ask for:
Payment over the phone or by email
Payment through services like Western Union, MoneyGram or PayPal
A money transfer to someone or to pay an individual
All USCIS and EOIR forms are free on USCIS.gov and justice.gov. No one should charge you for a form.
Personal Information
Scammers may try to get your personal information to steal your identity and money. This can include:
your name and address
bank account numbers and credit card
social security number
medical insurance numbers
If someone is asking for these details, be careful. Only give this information to someone you trust.
Legal scams
Only an attorney and DOJ-accredited representative are authorized to give legal advice.
Notarios Publicos
In many Latin American and European countries, notario publicos (notary publics) are licensed attorneys authorized to give legal advice.
In the United States, notarios administer oaths and witness the signing of important documents. Notary publics in the U.S. are not trained or authorized to provide any legal services. Notarios in the United States who are trying to scam you may:
Pretend to offer legal services
Offer to submit USCIS applications without the needed expertise
Give false legal advice that creates problems in your immigration case
Tip:
Make sure you get legal advice from a licensed immigration attorney or accredited legal representative. Learn how to find legal providers you can trust.
Scam websites
An immigration scam website could pretend to offer instructions and help to file a USCIS application. Scam websites will sometimes try to look similar to official sites or have odd typos.
Tips:
Make sure the website is secure with "https" address and a lock icon (🔒)
Official government sites end in .gov
Use official sites: USCIS.gov, DHS.gov, justice.gov
Do not use sites that try to have a similar address like USCIS-online.org
Update your phone and computer systems when new versions are released
Use strong passwords and multifactor authentication
Scam emails
Scam emails are very common. Many scam emails have files or links that download malware on your device when you click on them. They may ask for personal information such as account numbers or ask for payments.
Suspicious emails may have:
Odd typos, such as in your name
Strange characters and varying fonts
Links to fake government websites
Tips:
Do not open suspicious emails
Be careful when opening an email from someone you do not know
All emails from USCIS or the U.S. government will always end in .gov
Do not click on any links
Google or type in the website address instead of clinking on links
Do not make payments through email
Do not respond to suspicious emails
Be cautious of any email stating it has a USCIS decision
Go to myUSCIS to check you are getting the correct information (all important updates will be there)
[email protected] is a fraudulent email. Do not open emails from this address or click any of its links.
Scam calls
Most people get scam calls. Scammers often change their caller ID to match your area code so you will pick up. The most common types are about credit cards and taxes but some can be about immigration.
A scam caller may:
pretend to be an immigration officer
ask for personal information or payment
say your information is wrong or that you owe fees and threaten to report you
Tips:
USCIS does not ask for personal information or payments over the phone
Check with USCIS or EOIR if you are unsure if a call is real
Find agency contacts on an official site
Hang up on suspicious calls and do not try to call them back
Contact an immigration attorney or representative if you have questions
Scammers may also contact you on social media to offer support with an immigration application such as humanitarian parole. USCIS will not contact you through Facebook, Twitter, LinkedIn, or other online platforms.
Other immigration scams
Here is a list of specific immigration scams authorities are sharing with the public.
Afghan personal information scams may ask you to share personal information to help you get immigration benefits. USCIS does not generally send emails informing you that you have been approved for a certain immigration benefit.
Expediting processing scams may promise to get you a visa, green card, or work permit faster if you pay a fee. They call this "jumping the line." They may also say they have contacts in the government to expedite your case. No one can expedite services beyond the normal processing times.
Form I-9 email scams may ask employers for Form I-9 information pretending to be USCIS officials. Employers do not have to submit Form I-9 to USCIS.
Humanitarian parole scams may target immigrants and sponsors to take advantage of them. Scammers may reach out to you online or through social media and offer to be your supporter in exchange for a fee or personal information like your passport number or date of birth. If you are looking for a sponsor, use Welcome Connect.
Sponsors are responsible for providing financial support to beneficiaries for up to 2 years. Beneficiaries are not required to repay or work for their sponsor. Sponsors and beneficiaries do not have to pay a fee to submit an application.
Human trafficking scams may result from employment scams that involve suspicious job offers sent overseas or by email. Human trafficking includes situations where people are forced to work a job and are unable to leave because of threats, debt, and immigration status. Find safety tips to avoid human trafficking.
TPS scams often offer false information about re-registering for TPS. These scams may ask you to submit forms and payments to renew your TPS. It is free to renew. Do not pay for or file any form until USCIS has updated official TPS information online.
Visa lottery scams may say you have been selected for the Diversity Visa (DV) program. The visa lottery is managed by the Department of State, not USCIS. The State Department will not send you emails about being selected for the visa lottery. The visa lottery is free. You do not have to pay a fee to apply.
Report fraud and scams
Reporting scams can get you help. It can also help make sure that others do not experience the same thing. In most cases, you can report a scam anonymously and do not have to give your name.
Be sure to collect specific information about the fraud or scam:
Date, time, and location of the incident
Names and contact information of the individual or business involved
Description of the violation
| Report to | Type of scam |
| --- | --- |
| | Immigration benefits scams |
| | Immigration scams |
| | Immigration court proceeding scams |
| | Human trafficking scams |
| | Suspicious emails, websites, or social media accounts that claim to be affiliated with USCIS |
| | General scams |
| | Lost money or property |
| | Fraud |
| | Internet scams |
| | Employer fraud and abuse |
Talk to a trusted family member or friend if you need support. Find more help if someone is threatening you.
Be careful with other false information
There is a lot of false information being shared, especially around the topic of immigration. Be aware of disinformation and misinformation. Disinformation is often called fake news. It is intended to influence your opinion. Misinformation is not intentionally meant to mislead you but still gives you incorrect information.
Tips:
Pay attention to where your news and information are coming from
Be cautious with the information you get on social media
Check for the original sources within the article or post
Read about the author and organization to see if they are reliable
Verify the information in another source
---
The information on this page comes from USCIS, FTC, DOJ, USA.gov, and other trusted sources. We aim to offer easy to understand information that is updated regularly. This information is not legal advice.