What is EAD? A guide to U.S. Work Authorization
Many immigrants come to the USA to work. If you are not a U.S. citizen or green card holder, you must have an Employment Authorization Document (EAD). Find information on how to apply for a work permit and renew it.
---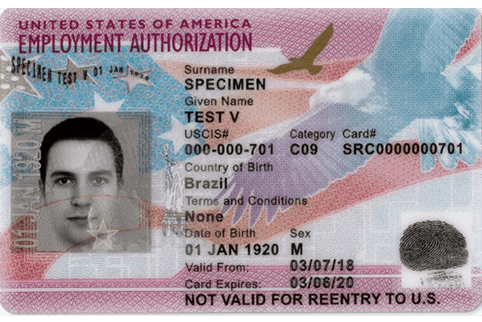 What is an EAD
An EAD is an Employment Authorization Document or work permit. To work in the United States, you must be a U.S. citizen, a lawful permanent resident, or have a work permit. An EAD proves you can legally work in the United States.
Employers must check if you are authorized to work in order to follow the law and avoid penalties. It is common for employers to ask during a job interview, "are you legally authorized to work in the United States?"
The EAD is not specific to an employer. You can use an EAD card to work for any employer in the United States.
EAD card
The EAD card includes your name, photo, alien number, card number, date of birth, fingerprint, and expiration date. You can use the card as a form of identification. It is not a valid document to re-enter the United States. The card is also known as an I-766.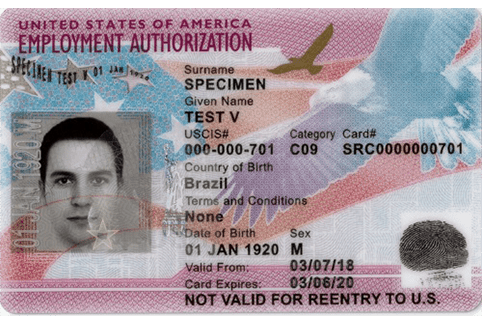 Who can get an EAD
You will need to be in an eligible category to apply for an EAD.
Some of these include:
Refugee
Asylee
Humanitarian parole
Temporary Protected Status (TPS)
Deferred Enforced Departure (DED)
DACA
VAWA
U and T visa
Pending asylum (150 days after filing)
Withholding of deportation or removal
Certain employment-based non-immigrants
Spouses, fiances or dependents of certain authorized categories
Find a complete list of eligible categories.
U.S. citizens and green card holders do not need an EAD to work.
Asylum seekers
If you are an asylum seeker with a pending application, you must wait 150 days before applying for an EAD. USCIS may reject your Form I-765 if you file it before the 150-day waiting period.
Asylum Seeker Advocacy Project (ASAP) is a helpful resource.
Refugees and asylees
Refugees and asylees are automatically authorized to work in the USA. They do not need to apply or pay a fee for an EAD.
If you are a refugee, the resettlement agency files for an EAD on your behalf. You are not required to show an EAD if you have both state identification and an unrestricted Social Security card.
If you are an asylee, the Asylum Office will begin processing your EAD automatically. You do not need to file an application for work authorization. However, if you have been granted asylum by an immigration judge or the Board of Immigration Appeals (BIA), you will receive postorder instructions on obtaining an EAD from USCIS.
Afghan and Ukrainian parolees
Certain Afghan and Ukrainian parolees do not need to wait for approval of Form I-765 to work in the USA. Your unexpired Form I-94 can be proof that you can work for the first 90 days at your job. After that, you will need to show an EAD and unrestricted Social Security card.
USCIS is also offering fee exemptions and faster processing. More information is available on their Afghan Nationals and Uniting for Ukraine pages.
How to apply for an EAD
If you are not a refugee or asylee, you will need to apply for a work permit with USCIS.
Here is a list of steps to follow:

1. Read the instructions. The form is complicated. It is recommended to get legal assistance to avoid mistakes.
2. Gather the required documents. You will need a copy of a government-issued ID and passport-size photos. There are other required documents according to your category.
3. Complete and sign Form I-765. You can do this online or by printing the form. Make sure to answer all the questions. If you print the form, make sure to sign it by hand.
4. Pay the $410 filing fee. Attach your filing fee receipt to your EAD application. You may not have to pay the fee if you have a certain immigration status or have an approved fee waiver.
5. Make a copy of the form. This is helpful if you need to renew your EAD or if it gets lost or stolen.
6. Submit your form. You have the option of submitting by mail or online. If you are submitting by mail and want to receive electronic notifications, include Form G-114.
7. Save your USCIS receipt number. This is how you can track the status.
8. You must wait for approval before you are eligible to start working. You can start searching for a job while you wait.
If you are notified that you need biometrics services, you will receive an appointment notice with instructions. This will cost an additional $85. Asylum seekers with a pending application do not need to submit this fee. Paying the wrong amount could cause your application to be rejected.
If you are filing with another form, you must follow the instructions for the other form. For example, if you are filing Form I-765 with Form I-539, you must file both forms where Form I-539 instructs you to. Also, check if the fees for different forms must be paid separately. Otherwise, your form could be rejected.
Wait time for an EAD
The wait time can vary by immigration status and service center. Check case processing times online. You can see estimated wait times for your personal case by logging into your myUSCIS account. After USCIS receives your application, they will also send you a receipt number to track the status of your application.
If you have a pending asylum application, the processing time is 30 days. This is in addition to the 150 days you must wait to apply. The period of time during which an asylum application is pending before getting an EAD is called the "180-day asylum EAD clock."
EAD expiration
An EAD can now be valid for up to 5 years depending on your immigration status. A new rule states your EAD will be valid for 5 years if you were:
Admitted or paroled as a refugee
Granted asylum
Granted withholding of deportation or removal, adjustment of status, or cancellation of removal
Have a pending application for asylum or withholding of removal, cancellation of removal, or adjustment of status
This rule only applies to applications filed on or after September 27, 2023. It does not apply to EADs issued before this date. Other immigration statuses, such as TPS, may have EADs that are valid for different amounts of time. USCIS may also automatically extend EADs by country with TPS.
EAD renewal
If your EAD is expiring soon or is expired, you can apply for a renewal. You must submit a new Form I-765. You will need to pay the application fee again unless you meet certain exceptions or have an approved fee waiver.
You can file your application for renewal starting 180 days before the expiration date. It is best to apply early so you do not have a gap in employment authorization.
Filing your application for renewal can extend your work authorization while your renewal application is processed. The current extension period is 540 days because of processing slow downs. This is temporary and is expected to return to a 180 day extension for those that file after October 27, 2023.
The USCIS EAD Extension Calculator can help you figure out the new expiration date.
Social security number
To work in the United States, you will also need a Social Security Number (SSN). You can apply for your SSN and EAD card at the same time with Form I-765. A Social Security number is used to report your salary to the government and determine benefits.
Find help
It is important to seek legal advice from an immigration lawyer or accredited representative if you have any questions or concerns. Many organizations and lawyers offer free or low-cost legal services.
You can get a replacement EAD if your card was stolen, lost, or destroyed. You will need to file a new Form I-765 to replace an EAD.
If you have an EAD, you can continue working while adjusting your status. If you don't have an EAD, you need to submit Form I-765 along with Form I-485.
There are many people who do not have legal immigration status in the United States and therefore can not get an EAD. They often work jobs that are "off the books" or get paid with cash. Find information for undocumented workers.
Having a job or providing a service without the proper documents is against U.S. labor and immigration laws. Working part-time, working online, or running your own business without authorization could have serious consequences. Your visa could get canceled or you could be deported.
Healthcare and childcare workers can get a faster or expedited process if they have one of the following:
An initial EAD form that has been pending for over 90 days.
A pending renewal EAD form with an expired or expiring EAD within 30 days or less.
---
The information on this page comes from USCIS and other trusted sources. We aim to offer easy to understand information that is updated regularly. This information is not legal advice.