On January 20, 2021, the Biden Administration issued an executive action to overturn the travel ban that prevented non-citizens from 13 countries from traveling to the USA. This executive action also directs the Department of State to start visa processing for applicants from those countries and to develop a plan to address harm caused by the ban.
The travel ban, also known as the "Muslim ban" went into effect in 2017. It prevented legal immigration from certain countries that the former administration considered a security threat. Many of the countries restricted are majority Muslim nations. The impact was that many people were stopped from coming to the US including those who had already been approved to come to the USA to join their family members, to work or through the US refugee resettlement program were stopped from coming.
The most recent version of this ban prevented citizens from the following countries from immigrating to the USA: Eritrea, Iran, Kyrgyzstan, Libya, Myanmar (Burma), Nigeria, North Korea, Somalia, Sudan, Syria, Tanzania, Venezuela and Yemen. As of January 20, 2021, citizens from these countries can apply for visas to the USA again.
For people who had visas already approved or in process when the ban went into effect, visit the U.S. Department of State to learn more.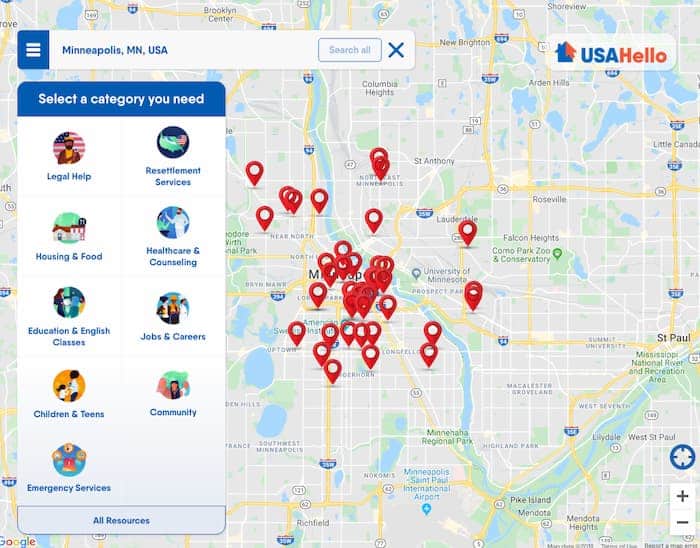 FindHello
FindHello has help and services for immigrants, refugees, asylum seekers, and undocumented people in the USA. Search for job advice, lawyers, healthcare, English classes and other services near you.
Start your search
The information on this page comes from the White House, Federal Register, the International Refugee Assistance Project (IRAP), NAFSA: Association of International Educators, and other trusted sources. It is intended for guidance and is updated as often as possible. USAHello does not give legal advice, nor are any of our materials intended to be taken as legal advice. If you are looking for a free or low-cost lawyer or legal help, we can help you find free and low-cost legal services.